Are Seat Covers Worth It?
This is one of the many questions you're probably asking yourself and it is a big one. It is also an important one to answer because it really depends on what type of seat covers you're thinking of buying. Not all seat covers are made the same, nor are they going to fit the same – especially when comparing universal to custom.
The main value and purpose of seat covers is to protect your seats. But you want to make sure you're ordering a quality product that is actually going to do this. When ordering custom or universal seat covers, there are a couple factors you should be considering before deciding.
Do All Seat Covers Fit All Cars?
Consider The Fit of Custom Vs. Universal Seat Covers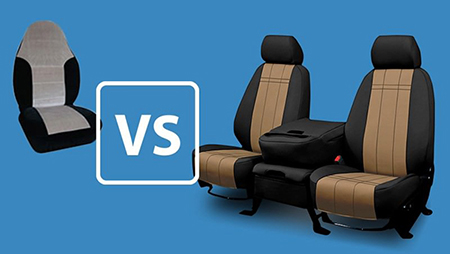 What is the big deal about custom made seat covers? You might be wondering, are seat covers universal in all cases, and if so, does that mean any type I buy will fit my vehicle? Will universal seat covers do the trick? There are cheap seat covers out there that are a "one size fits all". Won't they fit my seats? In some cases, the answer is yes. In others, the answer is kind of. But in most cases, the answer is no. And here's why:
Universals are made to fit as many vehicles as possible. If you consider the thousands of cars out there, having a seat cover that actually fits all of these vehicles seems almost impossible. The fact is, it is near impossible. That's why in most cases, universal seat covers don't have an overall great fit which defeats the main purpose of protecting your seats because your original upholstery may still be exposed.
Furthermore, universal seat covers are starting to fit fewer and fewer vehicles. As cars and trucks get redesigned, the shape of seats varies from standard sizes that work with the "one size fits all" covers bought off the shelf at big box stores or online from massive e-commerce websites. Non-standard seats require a custom product. On these big e-commerce websites, the general consensus is that universals fit for the price you pay. However, not all big box store seat covers have the best ratings. Many customer reviewers give them 1 or 2 star ratings because they flat out don't fit or won't stay on the seats.
It's a bit of a guessing game: will your vehicle be one of the lucky ones that the universal cover fits well? When it's not, there's not much you can do. You can either send them back, try to keep them on with your own makeshift strapping system, or call it a day. One thing that you can be sure of is that in all of these cases, even the best universal fit seat covers are not going to conform to your seats as well as something that is made specifically for your vehicle.
With custom seat covers, a fit guarantee protects you. Seat covers bought off the shelf that are universal do not come with that same guarantee. Seat covers from ShearComfort are guaranteed to fit the seats of the specific year, make, and model of vehicle you're ordering for. That guarantee assumes you ordered correctly for your particular seat – so it is best to order right the first time. Need help determining your vehicle's specifications? You can find out more information by reading "Get To Know Your Car".
This also means that you won't be scratching your head wondering how to make car seat covers fit better when they probably won't. Custom seat covers come with the peace of mind that you're ordering a product that is going to fit the shape of your seat properly in order to protect it. As many reviews on our website indicate, custom is definitely better-fitting than generic seat covers.
Rather than asking yourself, "do seat covers fit all cars?", you might want to ask yourself, "what kind of seat cover is going to fit my car best?" If you buy cheap car seat covers, you're likely going to get a cheap fit. Bottom line, custom seat covers are going to fit better and ensure your seats are fully protected.
Are Universal Car Seat Covers High Quality?
Consider Longevity and Wear of The Seat Covers
The actual wear is also a huge factor in the universal vs. custom debate. In many cases with the big box store seat covers, the overall quality isn't always there. There is something to be said about the phrase "you get what you pay for". When you go cheap, chances are the fabric is not of the highest quality. As Julian, a ShearComfort customer, indicates in his review, he "tried a variety of store bought seat covers none of which fit well and their materials were not good" and many others agree. More reviews like this at the bottom of this article.
There's a reason why lots of drivers finally end up with custom fit after tossing several universals out. ShearComfort's custom-fit seat covers are made from automotive-grade materials. For instance, the Neo-Supreme fabric from ShearComfort is similar to Neoprene but is specially formulated with UV protection for auto use, so that you won't end up with faded seat covers after only a few months. Of course, choosing a more durable custom fit fabric, like our CORDURA®, gives an even higher level of wear. Whichever material you go with, it's nice to know that custom seat covers have a warranty for quality.
With automotive grade material you know you're buying quality that will last in your vehicle. The same cannot be said for cheap seat covers.
Do All Seat Covers Fit All Car Safety Features?
Consider Your Safety While Driving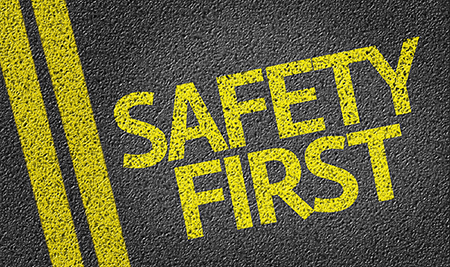 If you are lucky enough to have seats that universal car seat covers fit well, you should still check if you have Side Airbags in them.
Not sure what side airbags are? In North America, many vehicles have them as standard equipment. Read the product info to make sure the cover is 100% compatible with your airbags. Many do not have the stitching alterations necessary to allow the airbag to safely deploy through the fabric covering it. Many universal fit seat covers do not allow for this. One of the main disadvantages of some of these products is that they are "not equipped with front side airbags and rear split function". So if you're ever involved in an accident, your vehicle's crash safety features in your seats may not deploy properly. If ever shopping for universals, look for an explicit statement describing whether they are compatible or not.
To avoid this problem altogether, Go Custom! Custom made seat covers are designed to be compatible with vehicles that have side-mounted airbags. Seat cover companies and manufacturers will know what vehicles have side impact airbags and make the necessary alterations. On some seat cover websites, there is a section that you can choose "yes" or "no" for Side Airbags. This section is "Required" and you have to select one or the other before continuing. It is also nice to know that on ShearComfort's website, if your vehicle comes with standard Side Airbags, a proper alteration for them is automatically added during the ordering process. We've done the research so you don't have to know your vehicle inside and out. But if you're curious whether you have them or not, SaferCar.gov describes how to locate them: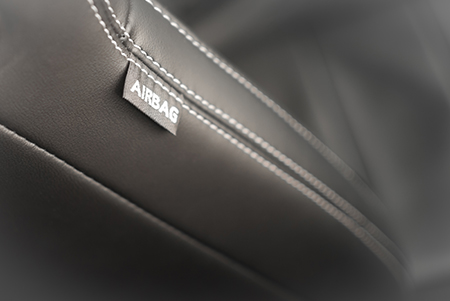 "Side-impact and rollover airbags are not required by the government; however, they are offered as either a standard or optional feature by many vehicle manufacturers. Again, read your owner's manual and look for SRS or Side Air Bag embossed on areas such as the outboard side of the seat back, the door panel, or the overhead roof rail."
The main thing to take from this is that if you have Side Airbags, universals are probably not worth purchasing.
What Are Others Saying About Custom Seat Covers?
Consider Reading Reviews
Here are some more product reviews from customers who have had experience with both universal and custom seat covers:
From Avinadar J of Castro Valley, CA: "I have to say if you want seat covers that will not make your interior look cheesy and rather want some quality and nice looking buy this one. Is a bit expensive for seat covers but you get what you pay for? I bought this kind for my new 2014 Grand Cherokee so I was not going to buy some cheap seat covers at Walmart."
Michele G from Danbury, NH describes Cordura seat covers on the 2013 Ford F250: "Although it took awhile for them to be shipped out it was certainly worth the wait. Snug fit look better than I have purchased in department stores. Material is strong looking forward to see how many years we get out of these."
Review by Kelly G from Franklin, PA: "I just purchased a new Prius and want to keep it showroom new. I have used department store seat covers in the past. Never again! My new seat covers fit like a glove". Kelly drives a 2012 Toyota Prius.
Review by Luisa D from Bradford, ON, Canada: "The covers we purchased from ShearComfort were a little more expensive than we planned on spending compared to the $30 universal cover we bought at PetSmart (the cover is to protect the seat from our German Shepard). But upon installation we could tell right away that this cover was going to fit perfectly even from touching the material we knew this was some durable stuff" This is for a 2011 Volkswagen Golf.
Review by Alan from Fort Rucker, AL for his Ford Explorer Limited: "With all the various options different varieties and the great support I would recommend buying these seat covers over the bulk stores that don't make the product they sell."
Review by Bob F from Indian Harbour, NS, Canada: "I'm ordering another set for my wife's car and even considering a set for my show car rather than reupholstering. These seat covers are worth every penny they are not the cheap variety available at discount stores."
Timothy D from Lynden, WA describes his experience : "Very well constructed good fit…I thought they were expensive but after installing them I see why they are priced that way due to the quality of the materials…not the type of cover as seen in a big box store." His vehicle is a 2013 Nissan Frontier.
To read more reviews, check out our review section and see for yourself why our customers choose custom over universal.
BOTTOM LINE: ARE SEAT COVERS WORTH IT AND SHOULD YOU BUY UNIVERSALS? CONSIDER THIS SEAT COVER BUYING GUIDE AS A RESOURCE
We started by bringing up the big question of whether seat covers are worth it. After reading through this guide, we hope to have answered that question in great detail. While we cannot say that all universal seat covers are worth it, there is great value when purchasing custom seat covers as they come with a fitment guarantee, are a high-quality product, and do not cause any safety concerns. So in that respect, the bottom line is custom seat covers are worth it.