Velour Seat Covers
4.6 / 5 Rating (

207

Reviews)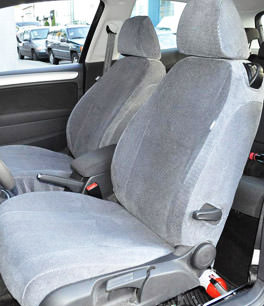 Durability
Comfort
Fit
Protection
Custom Fit to Your Seat
Start Here
Made in the USA from heavy weight auto upholstery material with laminated foam backing. Looks like your original seat.
| Madrid | Scottsdale | Encore |
| --- | --- | --- |
| Charcoal Madrid | Charcoal Scottsdale | Charcoal Encore |
| Black w/ Silver Madrid | Black Scottsdale | Black Encore |
| Silver Madrid | Silver Scottsdale | Silver Encore |
| Toast Madrid | Toast Scottsdale | Toast Encore |
| Sandstone Madrid | Sandstone Scottsdale | Sandstone Encore |
| Blue Madrid | Blue Scottsdale | Blue Encore |
Custom Velour seat covers are made from specific patterns for your vehicle.

Exact fit, custom made
Heavyweight Laminated Fabric
Looks like original seat
Request Free
Fabric Samples
Velour Seat Covers will give your vehicle's cloth seats that "new upholstery look" while protecting your original cloth seat. Available in custom sizes for most cars, trucks, and vans.
---
Washing your Nissan Altima Original Look car seat covers
Original Look Car Seat Covers are hand or machine washable, on a gentle cycle in cold water. Remove all hooks when washing. Hang to dry(no dryer).

Note: For extra protection and ease of cleaning, a fabric protector can be put on seat covers. Always allow car seat covers to be fully dry before installing. Professional cleaning is recommended.
---
Customer Reviews for Velour Seat Covers
Review by
Maureen S
from Sun City, CA:
Vehicle: 2014 Nissan Sentra
Review by Beth B from Chuckey, TN:
Vehicle: 2013 Subaru Forester
Product: Velour
Date: 2015-04-15
They look neat and nice once you get them on correctly but we had to work hard to figure out how to fasten everything down. Instructions were lacking.
Review by Bill W from Castleton, NY:
Vehicle: 2014 Ford Fusion
Product: Velour
Date: 2015-04-15
Best decision we could have made! They fit perfectly and look great.
Review by Mark D from worcester, MA:
Vehicle: 2007 Honda Ridgeline
Product: Velour
Date: 2015-04-11
Looks just like OEM parts. Really made my ridge line much newer on the inside. Fit and Finnish excellent.
Review by Daniel F from Macungie, PA:
Vehicle: 2010 Ford Fusion
Product: Velour
Date: 2015-04-06
Nice fit but struggled to get them just right. Lots of tugging and pulling. Looks good!
Review by Donna T from Hillsboro, KY:
Vehicle: 2003 GMC Sierra
Product: Velour
Date: 2015-04-02
Very nice durable seat covers I would recommend this company to anyone wanting good seat covers for a great price.
Review by Dan W from toronto, OH:
Vehicle: 2014 Toyota Camry
Product: Velour
Date: 2015-03-25
Fits great-2015 Toyota camry.Takes about a month for seat covers to be made but they so far they seem to be worth the wait. Thank you
Review by Kim D from Altadena, CA:
Vehicle: 2015 Subaru Forester
Product: Velour
Date: 2015-03-18
I bought front seat covers for my 2015 Subaru Forester because I was slipping around on the leather seats I'm 5'1 and a little over 100 pounds. I read the instructions so knew it would take a while to put on but it wasn't difficult. They fit great. The seat covers don't slide around on the leather and I don't slide around on the seat covers. They are comfortable and look nice. I had questions about the material and received help in choosing what would work well for me and the samples helped me pick what would match my car.
Review by Kevin R from Kamloops, BC:
Vehicle: 1990 Mazda Miata
Product: Velour
Date: 2015-03-14
Fantastic product. Well made and fits well. It did take abit to long to come but still extremely happy.
Review by Lisa from Berlin, NH:
Vehicle: 2014 Ford F150
Product: Velour
Date: 2015-03-09
Purchased for new Ford F-150 truck. Durable quality material and fit is excellent very pleased!