Neoprene Seat Covers
4.6 / 5 Rating (

1115

Reviews)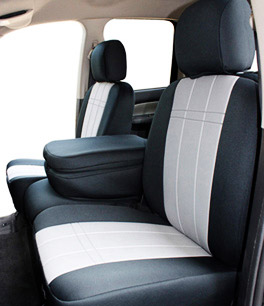 Durability
Comfort
Fit
Protection
Custom Fit to Your Seat
Start Here
Shear Comfort Neo-Supreme Seat Covers are made in the USA from a high wear, UV-protected neoprene style material. They offer superb protection for your original seats.
Choose from popular colors
| | | |
| --- | --- | --- |
| Black w/ Charcoal | Black w/ Tan | Black w/ Silver |
| Black w/ Red | Black w/ Blue | Black w/ Pink |
| Black w/ Yellow | Black w/ Purple | Black |
| | | |
| --- | --- | --- |
| Charcoal | Tan | Silver |
| Red | Blue | Pink |
| Yellow | Purple | Black |
Create your own Color Combination:

Computer cut for an exact fit
High wear, UV Protected Fabric
Breathable & Water Resistant
Request Free
Fabric Samples
Custom Neo Seat Covers are made to order, from patterns, for the Year, Make and Model that you choose. Neo-Supreme fabric is a high wear material, specifically designed for use as seat covers. Shear Comfort Neoprene Custom Seatcovers offer long lasting good looks and protection for your Car, Truck or Van.
Neoprene Seat Covers
We guarantee a perfect fit! Choose Custom Neoprene seat covers, which are precisely cut for your vehicle model. This ensures that your neoprene truck seat cover or neoprene car seat cover will fit perfectly. Custom is the best choice for seats with side airbags. If you choose our Premium Set package, we will include headrests, armrests (if applicable) and map pockets. Order red neoprene seat covers and put a sporty new look in your car, truck or van today!
More Information
For contoured seats or seats with side airbags, always choose our Custom Neoprene Seat Covers. Custom seatcovers will provide the best fit. Neoprene car seat will be comfortable and protect your original upholstery for many years.
Customer Reviews for Neoprene Seat Covers
Review by
James Curtis
from Cary, NC:
Vehicle: 2003 Ford Explorer
Review by Nelson Colon from lorain, OH:
Vehicle: 2015 Subaru Forester
Product: Neoprene
Date: 2014-10-23
Great fit looks wonderful easy to install will order again if I need orhers
Review by Robert Schmidt from Buffalo City, WI:
Vehicle: 2014 Subaru Impreza Wagon and Hatchback
Product: Neoprene
Date: 2014-10-23
Hi would recommend the seat covers. I was kind of wondering if they would be worth the $$$$ because I have purchased some before that were not near has good. I think they are worth the $$$ depending how they stand up.
Review by Robert W Lindsey Jr from San Angelo, TX:
Vehicle: 2011 Toyota 4Runner
Product: Neoprene
Date: 2014-10-23
Shear Comfort provided great seat covers for my car! Will definitely buy from them again!
Review by Jay Reynolds from Oil City, LA:
Vehicle: 2012 Ford F350
Product: Neoprene
Date: 2014-10-22
Excellent service and quality. Not the cheapest but fit like the custom covers that they are. Highly functional and good looking.
Review by Hans Neypes from Wainwright, AB:
Vehicle: 2014 Honda Odyssey
Product: Neoprene
Date: 2014-10-22
I just hope that regular customers should be free from shipping/delivery fee.
Review by Juan Donis from Cordova, SC:
Vehicle: 2014 Dodge Caravan / Grand Caravan
Product: Neoprene
Date: 2014-10-22
The best cover seats manufactured at the moment. Easy to install. Excellent quality. Overall the excellent item.
Review by Brian Wiseman from Montreal, QC:
Vehicle: 1999 Mazda Miata
Product: Neoprene
Date: 2014-10-22
I have a 1999 Miata and the seat fit and the colour options made the interior of my car look like new!
Review by Mark Altier from San Diego, CA:
Vehicle: 2014 Toyota Tacoma
Product: Neoprene
Date: 2014-10-18
Instead of straps that have to go all the way under the drivers seat you cold have short stretch fastener that fastens yo a bar under the seat.
Review by Charles Pope from CRYSTAL RIVER, FL:
Vehicle: 2014 Honda Civic
Product: Neoprene
Date: 2014-10-17
They called me twice just to make sure they were doing it the way I wanted. They look and fit PERFECT is all I can say. Thanks