Neoprene Seat Covers
4.5 / 5 Rating (

1275

Reviews)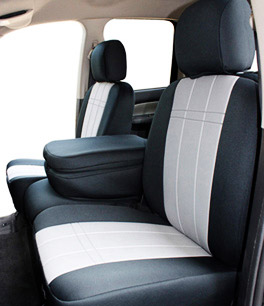 Durability
Comfort
Fit
Protection
Custom Fit to Your Seat
Start Here
Shear Comfort Neo-Supreme Seat Covers are made in the USA from a high wear, UV-protected neoprene style material. They offer superb protection for your original seats.
Choose from popular colors
| | | |
| --- | --- | --- |
| Black w/ Charcoal | Black w/ Tan | Black w/ Silver |
| Black w/ Red | Black w/ Blue | Black w/ Pink |
| Black w/ Yellow | Black w/ Purple | Black |
| | | |
| --- | --- | --- |
| Charcoal | Tan | Silver |
| Red | Blue | Pink |
| Yellow | Purple | Black |
Create your own Color Combination:

Computer cut for an exact fit
High wear, UV Protected Fabric
Breathable & Water Resistant
Request Free
Fabric Samples
Custom Neo Seat Covers are made to order, from patterns, for the Year, Make and Model that you choose. Neo-Supreme fabric is a high wear material, specifically designed for use as seat covers. Shear Comfort Neoprene Custom Seatcovers offer long lasting good looks and protection for your Car, Truck or Van.
Neoprene Seat Covers
We guarantee a perfect fit! Choose Custom Neoprene seat covers, which are precisely cut for your vehicle model. This ensures that your neoprene truck seat cover or neoprene car seat cover will fit perfectly. Custom is the best choice for seats with side airbags. If you choose our Premium Set package, we will include headrests, armrests (if applicable) and map pockets. Order red neoprene seat covers and put a sporty new look in your car, truck or van today!
More Information
For contoured seats or seats with side airbags, always choose our Custom Neoprene Seat Covers. Custom seatcovers will provide the best fit. Neoprene car seat will be comfortable and protect your original upholstery for many years.
Customer Reviews for Neoprene Seat Covers
Review by
Beverly B
from Ilderton, ON:
Vehicle: 2011 Chevy Colorado
Review by Justina C from Connellsville, PA:
Vehicle: 2007 Dodge Caravan / Grand Caravan
Product: Neo-Supreme
Date: 2015-02-23
The 2014 cover fit very well. The 2007 cover seemed a little loose.
Review by Kellie H from Poulsbo, WA:
Vehicle: 2015 Nissan Xterra
Product: Neo-Supreme
Date: 2015-02-21
I wanted the best protection I could get for my new car. I work with dogs so I want to be careful NOT to turn my recent investment into a dog car. These seat covers are the real deal! Even if you need to save for them..you'll be glad you did! You can feel and see the craftsmanship..Needless to say I am a very satisfied customer. And they match the color of my interior perfectly..the blue stripe down the center just makes me feel sexy!
Review by Brent P from Tecumseh, ON:
Vehicle: 2011 Ford F150
Product: Neo-Supreme
Date: 2015-02-19
I was hesitant when we purchased our first set for the work trucks in 2011. Four years later that original set still going strong. Since then we have outfitted our remaining fleet of 10 trucks. Great fit tough resistant to stains and dirt. I've even installed them in my personal vehicles. Great Product...worth every penny.
Review by Harry P from Littleton, CO:
Vehicle: 2010 Chevy Silverado
Product: Neo-Supreme
Date: 2015-02-14
Very nice the added price was worth it. Cannot tell from the original. The console covering however I did not use because you could not close the lids.
Review by Clinton F from Bastrop, TX:
Vehicle: 2007 Toyota FJ Cruiser
Product: Neo-Supreme
Date: 2015-02-12
I like them but the driver side bottom seat cover had a hole in it not happy about that.
Review by Ed S from Oxnard, CA:
Vehicle: 2015 Mazda 3
Product: Neo-Supreme
Date: 2015-02-11
They were easy to install and they fit perfectly. They arrived in a timely manner and they feel perfect. The neoprene is nice it doesn't get too hot.
Review by Valerie F from Chicago, IL:
Vehicle: 2014 Honda CRV
Product: Neo-Supreme
Date: 2015-02-10
Covers allow side air bags to function in accident. Covers fit beautifully.
Review by Paul N from Voorhees, NJ:
Vehicle: 2015 Subaru Forester
Product: Neo-Supreme
Date: 2015-02-09
As promised. They install quickly and fairly easily. So far they are very comfortable and don't shift around while driving or while getting in and out. Very satisfied so far after about 1-2 months of use.
Review by Kevin K from Columbus, OH:
Vehicle: 2014 Honda Civic
Product: Neo-Supreme
Date: 2015-02-05
Seat covers fit tight and are of high quality. Headrest covers were a bit too small but was still able to get velcro to fasten.