Neoprene Seat Covers
4.6 / 5 Rating (

1045

Reviews)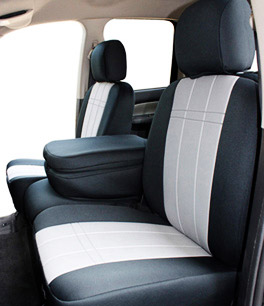 Durability
Comfort
Fit
Protection
Custom Fit to Your Seat
Start Here
Shear Comfort Neo-Supreme Seat Covers are made in the USA from a high wear, UV-protected neoprene style material. They offer superb protection for your original seats.
Choose from popular colors
| | | |
| --- | --- | --- |
| Black w/ Charcoal | Black w/ Red | Black w/ Silver |
| Black w/ Tan | Black w/ Blue | Black w/ Pink |
| Black w/ Yellow | Black w/ Purple | Black |
| | | |
| --- | --- | --- |
| Charcoal | Red | Silver |
| Tan | Blue | Pink |
| Yellow | Purple | Black |
Create your own Color Combination:

Computer cut for an exact fit
High wear, UV Protected Fabric
Breathable & Water Resistant
Request Free
Fabric Samples
Custom Neo Seat Covers are made to order, from patterns, for the Year, Make and Model that you choose. Neo-Supreme fabric is a high wear material, specifically designed for use as seat covers. Shear Comfort Neoprene Custom Seatcovers offer long lasting good looks and protection for your Car, Truck or Van.
Neoprene Seat Covers
We guarantee a perfect fit! Choose Custom Neoprene seat covers, which are precisely cut for your vehicle model. This ensures that your neoprene truck seat cover or neoprene car seat cover will fit perfectly. Custom is the best choice for seats with side airbags. If you choose our Premium Set package, we will include headrests, armrests (if applicable) and map pockets. Order red neoprene seat covers and put a sporty new look in your car, truck or van today!
More Information
For contoured seats or seats with side airbags, always choose our Custom Neoprene Seat Covers. Custom seatcovers will provide the best fit. Neoprene car seat will be comfortable and protect your original upholstery for many years.
Customer Reviews for Neoprene Seat Covers
Review by
Denise Salatino
from Royal Oak, MI:
Vehicle: 2013 Subaru Outback
Review by Michele Herr from Enderby, British Columbia:
Vehicle: 2007 Ford Mustang
Product: Neoprene
Date: 2014-09-13
They fit well and were easy to install. My only issue is there are no straps holding the sides tight to the seat so when you slide in to the car it a mustang so you have to slide the seat cover shifts or comes off.
Review by Kathy Rees from Grand Junction, CO:
Vehicle: 2011 Mini Cooper
Product: Neoprene
Date: 2014-09-09
I love the look of the seat covers very sporty. The only problem I have is the bottom cushion straps loosen allowing the cushion to move and twist.
Review by John Muller from Dennisville, NJ:
Vehicle: 2014 Toyota Tacoma
Product: Neoprene
Date: 2014-09-08
Well made. Easy to install. Very comfortable and stylish. Very satisfied with my purchase.
Review by Patrick J from Colleyville, TX:
Vehicle: 2014 Toyota Tacoma
Product: Neoprene
Date: 2014-09-08
Absolutely great fitting covers for my 2014 Toy. Tacoma Sport. Very intricate seat details that were perfectly replicated. Hats off to Shear Comfort for a perfectly executed product. Although difficult to install all brands are due to the material Shear Comfort impressed me with the attention to detail. I highly recommend this product! Two thumbs up!
Review by Viola KaravedasEibister from Baltimore, MD:
Vehicle: 2014 Honda Accord
Product: Neoprene
Date: 2014-09-06
They are very nice and for me well worth the money. They fit nice and they look nice I hope they last a long time. There is one thing about them though -they are installed on a 2014 Honda Accord Sedan V6 with Navigation. I bought the seat covers and took them to the Honda Dealer for them to install. The service department said that they would not install them and that I should send them back because: this car has airbags on the side of the seat. The service department said that even though the seat covers are custome made and have a place for the airbag to deploy - the dealer could not guarantee that the airbags would actually be able to make it through the hole. I installed them anyway. VKE
Review by Brent Simpson from Port Allen, LA:
Vehicle: 2013 Ford F150
Product: Neoprene
Date: 2014-09-06
Great fit easy to install took about 45 minutes. Color matches truck colors great.
Review by Daniel Thibault from Richlands, NC:
Vehicle: 2014 Mazda 3
Product: Neoprene
Date: 2014-09-06
Extremely pleased with the quality and the fit easy to assemble and received exactly what was advertised.
Review by Mary Ann Weise from Winnipeg, MB:
Vehicle: 2013 Ford F150
Product: Neoprene
Date: 2014-09-06
Middle compartment does not latch properly because seat cover is in the way. When seat is lifted everything falls out of compartment. All other sections fit very nicely.
Review by Wayne David Murphy from Mount Pearl, Newfoundland:
Vehicle: 2013 Jeep Grand Cherokee
Product: Neoprene
Date: 2014-09-05
Just purchased the rear covers to complete my set. The fit and craftmanship on these is awesome. What a great look inside my 2013 Jeep-GC. Great service delivery Thank you.