Neoprene Seat Covers
4.6 / 5 Rating (

1196

Reviews)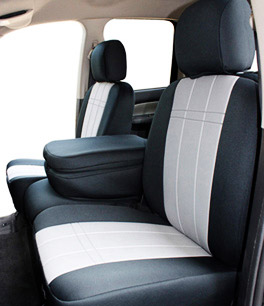 Durability
Comfort
Fit
Protection
Custom Fit to Your Seat
Start Here
Shear Comfort Neo-Supreme Seat Covers are made in the USA from a high wear, UV-protected neoprene style material. They offer superb protection for your original seats.
Choose from popular colors
| | | |
| --- | --- | --- |
| Black w/ Charcoal | Black w/ Tan | Black w/ Silver |
| Black w/ Red | Black w/ Blue | Black w/ Pink |
| Black w/ Yellow | Black w/ Purple | Black |
| | | |
| --- | --- | --- |
| Charcoal | Tan | Silver |
| Red | Blue | Pink |
| Yellow | Purple | Black |
Create your own Color Combination:

Computer cut for an exact fit
High wear, UV Protected Fabric
Breathable & Water Resistant
Request Free
Fabric Samples
Custom Neo Seat Covers are made to order, from patterns, for the Year, Make and Model that you choose. Neo-Supreme fabric is a high wear material, specifically designed for use as seat covers. Shear Comfort Neoprene Custom Seatcovers offer long lasting good looks and protection for your Car, Truck or Van.
Neoprene Seat Covers
We guarantee a perfect fit! Choose Custom Neoprene seat covers, which are precisely cut for your vehicle model. This ensures that your neoprene truck seat cover or neoprene car seat cover will fit perfectly. Custom is the best choice for seats with side airbags. If you choose our Premium Set package, we will include headrests, armrests (if applicable) and map pockets. Order red neoprene seat covers and put a sporty new look in your car, truck or van today!
More Information
For contoured seats or seats with side airbags, always choose our Custom Neoprene Seat Covers. Custom seatcovers will provide the best fit. Neoprene car seat will be comfortable and protect your original upholstery for many years.
Customer Reviews for Neoprene Seat Covers
Review by
Debra Ralston
from Port Alberni, British Columbia:
Vehicle: 2015 Subaru Forester
Review by Vena Romero from Lanai City, HI:
Vehicle: 2012 Toyota Camry
Product: Neoprene
Date: 2014-12-11
love them and they were fairly easy to install. Thank you for getting them to me so quickly
Review by Carol Elliott from HENDERSONVILLE, NC:
Vehicle: 2012 Lexus RX
Product: Neoprene
Date: 2014-12-11
Bottom bunches up when you get in. Have to straighten it back up.
Review by Jessica Allen from Canton, NC:
Vehicle: 2001 Toyota Tacoma
Product: Neoprene
Date: 2014-12-10
I received the back headrest covers when I order the front. I really would like to recieve the front headrest covers. I love the material and they are wonderfully made. The headrest just do not fit.
Review by Kelly Ritchie from Tomball, TX:
Vehicle: 2005 Dodge Ram Pickup
Product: Neoprene
Date: 2014-12-10
They were everything I expected them to be. They fit feel and look great!
Review by Steven Crumb from St. Albert, Alberta:
Vehicle: 2009 Toyota FJ Cruiser
Product: Neoprene
Date: 2014-12-10
The driver seat cover is too big for the seat have to fold one corner in to make it tight. Not enough elastics on any piece to really secure although they give too many hooks to be used on what I couldn't tell you The arm rest covers are really loose doesn't look good at all. Looks really cheap. The passenger seat turned out pretty good though.
Review by Fred Trummel from Stayton, OR:
Vehicle: 2014 Subaru XV Crosstrek
Product: Neoprene
Date: 2014-12-10
The seat covers are a perfect fit and the customer support was excellent.
Review by Bettina Diaz from Lake Charles, LA:
Vehicle: 2014 Volkswagen Jetta
Product: Neoprene
Date: 2014-12-09
This is the first time I have ordered seat covers maybe I had to high expectations of seat covers in general. I just think for custom made covers and the price the coversspecifically the seat part should fit better. They are only fastened front to back.
Review by Tara Harper from Hampton, VA:
Vehicle: 2006 Mazda 6
Product: Neoprene
Date: 2014-12-08
The materials that the seat covers are made from are top notch. The instructions could use some work. Not very precise when it comes to where to secure the seat covers using the hooks. Was able to figure it out after several minutes looking under the front seats.
Review by Mary Lowes from Shawnigan Lake, BC:
Vehicle: 2014 Toyota Yaris
Product: Neoprene
Date: 2014-12-08
Had to wait for son to visit to put cover on seats I found them a bit hard to put on. Will tackle back seats next week!!! Happy with the way they look and quality.