Neoprene Seat Covers
4.6 / 5 Rating (

1130

Reviews)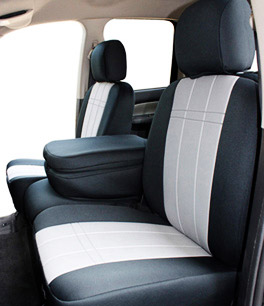 Durability
Comfort
Fit
Protection
Custom Fit to Your Seat
Start Here
Shear Comfort Neo-Supreme Seat Covers are made in the USA from a high wear, UV-protected neoprene style material. They offer superb protection for your original seats.
Choose from popular colors
| | | |
| --- | --- | --- |
| Black w/ Charcoal | Black w/ Tan | Black w/ Silver |
| Black w/ Red | Black w/ Blue | Black w/ Pink |
| Black w/ Yellow | Black w/ Purple | Black |
| | | |
| --- | --- | --- |
| Charcoal | Tan | Silver |
| Red | Blue | Pink |
| Yellow | Purple | Black |
Create your own Color Combination:

Computer cut for an exact fit
High wear, UV Protected Fabric
Breathable & Water Resistant
Request Free
Fabric Samples
Custom Neo Seat Covers are made to order, from patterns, for the Year, Make and Model that you choose. Neo-Supreme fabric is a high wear material, specifically designed for use as seat covers. Shear Comfort Neoprene Custom Seatcovers offer long lasting good looks and protection for your Car, Truck or Van.
Neoprene Seat Covers
We guarantee a perfect fit! Choose Custom Neoprene seat covers, which are precisely cut for your vehicle model. This ensures that your neoprene truck seat cover or neoprene car seat cover will fit perfectly. Custom is the best choice for seats with side airbags. If you choose our Premium Set package, we will include headrests, armrests (if applicable) and map pockets. Order red neoprene seat covers and put a sporty new look in your car, truck or van today!
More Information
For contoured seats or seats with side airbags, always choose our Custom Neoprene Seat Covers. Custom seatcovers will provide the best fit. Neoprene car seat will be comfortable and protect your original upholstery for many years.
Customer Reviews for Neoprene Seat Covers
Review by
Brian Taylor
from chilliwack, BC:
Vehicle: 2011 Toyota Tacoma
Review by Laurie Faunce from Flag Pond, TN:
Vehicle: 2015 Subaru Forester
Product: Neoprene
Date: 2014-10-30
Easy to install and fit great. I now have them in all my cars.
Review by Doug Thornton from South Houston, TX:
Vehicle: 1998 Jeep Wrangler
Product: Neoprene
Date: 2014-10-30
VERY GOOD FIT NICE LOOKING EASY TO INSTALL. ONLY PROBLEM IS I HAD A STRAP BUCKLE BREAK ON ONE OF THE COVERS THE FIRST TIME I PUT IT ON.
Review by Jack Watson from Port Orange, FL:
Vehicle: 2005 Mini Cooper
Product: Neoprene
Date: 2014-10-30
Front seat covers fit great. Rear seat covers do not fit well. The rear seat backs had cutouts on the back side in wrong position. I cannot get to the fold down lever since no cutout was provided. Its just the wrong back panel. Very disappointed.
Review by Georgiq Kasper from Iowa City, IA:
Vehicle: 2014 Toyota RAV4
Product: Neoprene
Date: 2014-10-30
Love the look and fit of these covers. Look identical to original seats. Somewhat complicated to put on especially the 60/40 seats. Great quality.
Review by Kevin Cetin from Centereach, NY:
Vehicle: 2012 Ford F150
Product: Neoprene
Date: 2014-10-30
Covers are nice. Lack of installation instructions. Middle seat cover in my f150 does not fit 100% overbally it's nice but for the price there's more to be desired.
Review by Kathleen Wee from Richmond, British Columbia:
Vehicle: 2010 Toyota Matrix
Product: Neoprene
Date: 2014-10-29
Great for keeping fabric sears clean as I have a dog who likes to sneak up to the front.
Review by Michael M. from Athens, OH:
Vehicle: 2014 Dodge Durango
Product: Neoprene
Date: 2014-10-29
Excellent snug fit for our 2014 Dodge Dakota. Many straps to help cinch it down of the front and rear seats. Easy installation.
Review by Larry Rimel from Sevierville, TN:
Vehicle: 2006 Toyota Tacoma
Product: Neoprene
Date: 2014-10-29
Fits welleasy to install looks very good and very comfortable. Well worth the price!
Review by Susan Samz from Crandon, WI:
Vehicle: 2014 Toyota Tundra
Product: Neoprene
Date: 2014-10-29
They were for my husband and he is pretty particular and he really likes them! Easy to install good fit and great quality! Definitely very pleased!