Neoprene Seat Covers
4.6 / 5 Rating (

1059

Reviews)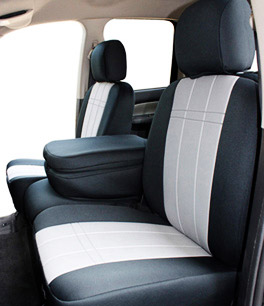 Durability
Comfort
Fit
Protection
Custom Fit to Your Seat
Start Here
Shear Comfort Neo-Supreme Seat Covers are made in the USA from a high wear, UV-protected neoprene style material. They offer superb protection for your original seats.
Choose from popular colors
| | | |
| --- | --- | --- |
| Black w/ Charcoal | Black w/ Tan | Black w/ Silver |
| Black w/ Red | Black w/ Blue | Black w/ Pink |
| Black w/ Yellow | Black w/ Purple | Black |
| | | |
| --- | --- | --- |
| Charcoal | Tan | Silver |
| Red | Blue | Pink |
| Yellow | Purple | Black |
Create your own Color Combination:

Computer cut for an exact fit
High wear, UV Protected Fabric
Breathable & Water Resistant
Request Free
Fabric Samples
Custom Neo Seat Covers are made to order, from patterns, for the Year, Make and Model that you choose. Neo-Supreme fabric is a high wear material, specifically designed for use as seat covers. Shear Comfort Neoprene Custom Seatcovers offer long lasting good looks and protection for your Car, Truck or Van.
Neoprene Seat Covers
We guarantee a perfect fit! Choose Custom Neoprene seat covers, which are precisely cut for your vehicle model. This ensures that your neoprene truck seat cover or neoprene car seat cover will fit perfectly. Custom is the best choice for seats with side airbags. If you choose our Premium Set package, we will include headrests, armrests (if applicable) and map pockets. Order red neoprene seat covers and put a sporty new look in your car, truck or van today!
More Information
For contoured seats or seats with side airbags, always choose our Custom Neoprene Seat Covers. Custom seatcovers will provide the best fit. Neoprene car seat will be comfortable and protect your original upholstery for many years.
Customer Reviews for Neoprene Seat Covers
Review by
David SR Burton
from Clearwater, FL:
Vehicle: 2002 Ford Ranger
Review by Gary Patterson from Cold Lake, AB:
Vehicle: 2013 Ford F150
Product: Neoprene
Date: 2014-09-25
Look great comfortable to sit on and easy installation thanks I highly recommended these to some friends
Review by Maureen Wiltse from Crestview, FL:
Vehicle: 2006 Jeep Liberty
Product: Neoprene
Date: 2014-09-24
Good fit and they look great I was happy with the color and they are comfortable Arrived pretty much in time Arrived pretty much on time
Review by Steven King from Sault Ste. Marie, ON:
Vehicle: 2014 Toyota Tundra
Product: Neoprene
Date: 2014-09-20
Excellent fit and an easy install. With a good clolour selection people may not even recognize they are seat covers.
Review by Delmer Nicholson from CIncinnati, OH:
Vehicle: 2015 Subaru Forester
Product: Neoprene
Date: 2014-09-19
Pros: They had seat covers for my 2015 Forrester in August of 2014. Sales rep followed by by phone and email when there was a question about my order. Neoprene material seems durable and is fairly comfortable. Fit is pretty good but not as contour-following as the photos on the site. Cons: The openings for the headrests are perpendicular slits in the fabric with no hems or other reinforcement. They look flat awful. I hope the slits don't open up further into the fabric. The headrest cover doesn't cover the entire headrest: a noticeable portion of the original fabric peeks out on the sides. They could have definitely done a better job designing the headrest covers.
Review by Brent Belnap from Idaho Falls, ID:
Vehicle: 2006 Honda Pilot
Product: Neoprene
Date: 2014-09-19
The Velcro strip in the back and on the seat that connects the two once they are installed could be wider making it easier to install. The holes for the head rest in the seat back do not match the pilot holes and it is a stretch to get the head rest back in place. Good quality work and sewing!!color is as pictured and matches. Thanks!
Review by Mark Hoople from Grand Island, NY:
Vehicle: 2010 Honda Accord
Product: Neoprene
Date: 2014-09-19
Very nice quality.No map pocket for front seat covers.Very good fit for my wife's Accord.
Review by Michael Glass from Glencoe, IL:
Vehicle: 2013 Ford F250
Product: Neoprene
Date: 2014-09-18
Straps to pull tight are not sewed strongly enough. One broke while installing. Otherwise looks good.
Review by Charles Catino from Doral, FL:
Vehicle: 2013 Ford Fusion
Product: Neoprene
Date: 2014-09-18
Installation was difficult fit is good. Looks good. Would recommend
Review by Pamela Tibbs from Albrightsville, PA:
Vehicle: 2014 Jeep Grand Cherokee
Product: Neoprene
Date: 2014-09-18
The seat cover fit like a glove and look great I highly recommend them to everyone.