Cordura Seat Covers
4.5 / 5 Rating (

570

Reviews)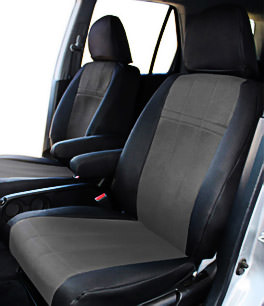 Durability
Comfort
Fit
Protection
Custom Fit to Your Seat
Start Here
About Fabric: Highly durable Cordura fabric with laminated backing offers rugged performance, with maximum protection.

Choose from popular colors
| | | |
| --- | --- | --- |
| Black | Gray | Tan |
| Blue | Burgundy | Black w/ Gray |
| Black w/ Tan | Black w/ Blue | Black w/ Burgundy |
Create your own Color Combination:

Long lasting, waterproof car seat
Washable & can be surface cleaned
Excellent for truck & industry use
Request Free
Fabric Samples
Cordura Custom waterproof seat cover is for those who value maximum protection. Excellent for construction, heavy industry use, or as a Pet Seat Cover. All Cordura waterproof car seat covers are Custom made for your vehicle.
Cordura Benefits
Cordura seat covers for maximum durability
Cordura is a high-performance fabric resistant to abrasions, tears, and scuffs
Cordura stands for durability
Cordura is:

2 x more durable than standard nylon
3 x more durable than polyester
10 x more durable than cotton duck
Customer Reviews for Cordura Seat Covers
Review by
Mike B
from Vallejo, CA:
Vehicle: 2006 Ford F150 Extended Cab
Review by Tyler F from San Jose, CA:
Vehicle: 2013 Toyota RAV4
Product: Cordura
Date: 2015-02-17
need to order the armrest and headcovers hopefully I can get a pricebreak or at least same price as they would have been if I selected them first as I should have.
Review by Graham S from Williams Lake, BC:
Vehicle: 2001 Dodge Ram Pickup
Product: Cordura
Date: 2015-02-17
Fit on seats was excellent although the console piece is a bit off.
Review by John B from Ridgefield, WA:
Vehicle: 2011 Chevy Silverado
Product: Cordura
Date: 2015-02-12
Excellent covers and very pleased. Wait was too long but one must be patient for quality. Have no regrets--these cover the rear seats for the dog. Unless a work truck probably wouldn't recommend for comfort...for that we're waiting on our neoprene ones that are in production.
Review by Gary S from Reseda, CA:
Vehicle: 2014 Nissan Rogue
Product: Cordura
Date: 2015-02-11
Very happy with my front seat covers. I have two large German Shepherds one of which likes to sit on the front seat. After tearing apart some cheap Costco covers these are very welcome fit great and look great. Back seats are next now that I see the quality of these.
Review by Kenneth N from Saskatoon, SK:
Vehicle: 2008 Toyota Tundra
Product: Cordura
Date: 2015-02-09
they are an excellent fit and fairly easy to install. they are also very easy to keep clean
Review by Billy S from blountville, TN:
Vehicle: 2014 Toyota Tacoma
Product: Cordura
Date: 2015-02-07
After trying several types of seat covers from various auto part stores I was never satisfied with the quality or fit. Although pricey I decided to give these a try. First of all you have to take your time on installation because they are a close fit. My covers on a 14 Tacoma fit well and seem to be really tough. Probably as close to factory as you can get in a cover. You get what you pay for.
Review by April W from NEW ATHENS, IL:
Vehicle: 2009 Dodge Ram Pickup 1500
Product: Cordura
Date: 2015-02-04
They fit great!! My husband loves them. I've had to get some stains off of them and I just wiped with a rag and cold water. They will definitely extend the life of the truck. It was a great buy.
Review by Eric Y from Peace River, AB:
Vehicle: 2013 Dodge Durango
Product: Cordura
Date: 2015-02-03
Covers fit nicely in a 2013 Durango. Delivery time to Canada took a little bit though.
Review by Dennis P from White Springs, FL:
Vehicle: 2013 Subaru Outback
Product: Cordura
Date: 2015-02-02
Thanks for working with me when I originally ordered for the wrong car make. They fit is good and tight and he loves them.