Cordura Seat Covers
4.5 / 5 Rating (

517

Reviews)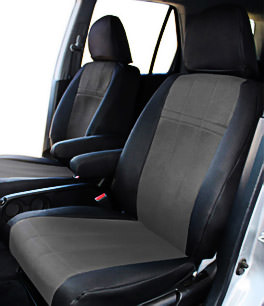 Durability
Comfort
Fit
Protection
Custom Fit to Your Seat
Start Here
About Fabric: Highly durable Cordura fabric with laminated backing offers rugged performance, with maximum protection.

Choose from popular colors
| | | |
| --- | --- | --- |
| Black | Gray | Tan |
| Blue | Burgundy | Black w/ Gray |
| Black w/ Tan | Black w/ Blue | Black w/ Burgundy |
Create your own Color Combination:

Long lasting, waterproof car seat
Washable & can be surface cleaned
Excellent for truck & industry use
Request Free
Fabric Samples
Cordura Custom waterproof seat cover is for those who value maximum protection. Excellent for construction, heavy industry use, or as a Pet Seat Cover. All Cordura waterproof car seat covers are Custom made for your vehicle.
Cordura Benefits
Cordura seat covers for maximum durability
Cordura is a high-performance fabric resistant to abrasions, tears, and scuffs
Cordura stands for durability
Cordura is:

2 x more durable than standard nylon
3 x more durable than polyester
10 x more durable than cotton duck
Customer Reviews for Cordura Seat Covers
Review by
Louise Woosley
from Florence, OR:
Review by Natalie Bertrand from Rockland, ON:
Vehicle: 2011 Toyota Tacoma
Product: Cordura
Date: 2014-11-27
they were a perfect fit. Perfect colour and they look great
Review by Keith Ayers from Placerville, CA:
Vehicle: 2005 Ford F250 to 550 Regular or Crew Cab
Product: Cordura
Date: 2014-11-27
The straps are right where the rails for the seat adjustment is & no hole for the seat back position handle but otherwise a great fit.
Review by Charles Henry from Wellesley, MA:
Vehicle: 2000 GMC Sierra
Product: Cordura
Date: 2014-11-27
These were the best seat covers I have found. I had never foun a seat cover that would fit my seats. These are custom made fit perfect. Great material. Worth the money.
Review by Patrick Arnold from Boise, ID:
Vehicle: 2015 Jeep Wrangler
Product: Cordura
Date: 2014-11-26
The seat covers look great and went on easily. The fit is a bit baggy but that seems to be more the nature of the fabric. The covers seem to be extremely tough.
Review by AILEEN LIVINGSTON from VOLUNTOWN, CT:
Vehicle: 2015 Subaru Outback
Product: Cordura
Date: 2014-11-20
I really like the cordura and expect it to last a long time. I found the backs very difficult to put on as they were really tight fitting especially around the middle of the bucket seat. Could have used an extra inch in the width. I don't expect to take them off anytime soon due to the difficulty in putting them on again.
Review by Cynthia Adams from Christmas, FL:
Vehicle: 2015 Toyota Tacoma
Product: Cordura
Date: 2014-11-21
I wasn't as happy with the Tacoma seat covers as I was with the Sierra seat covers. The covers didn't fit as well.
Review by John B Lombardo from Auburn, NY:
Vehicle: 2015 Subaru Forester
Product: Cordura
Date: 2014-11-19
Perfect tight fit once I figured out how to put them on. Never know they are not original. Solid seat cover great for my Springer Spaniel. Comfortable too. Thanks for the customer support.
Review by Jerry Harris from Shadow Hills, CA:
Vehicle: 2014 Dodge Ram Pickup 2500-5500 HD
Product: Cordura
Date: 2014-11-16
Solid strong and very durable seat covers. Easy to clean put on and are staying in place. I wish I would have bought these covers first they would have been my last to buy.
Review by Neal Moysey from Manitouwadge, ON:
Vehicle: 2015 GMC Sierra
Product: Cordura
Date: 2014-11-14
- EXCELLENT FIT - DURABLE - LOTS OF STRAPS TO PREVENT MOVEMENT - EASY TO CLEAN