Cordura Seat Covers
4.5 / 5 Rating (

590

Reviews)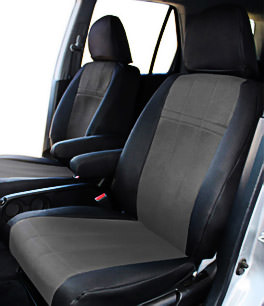 Durability
Comfort
Fit
Protection
Custom Fit to Your Seat
Start Here
About Fabric: Highly durable Cordura fabric with laminated backing offers rugged performance, with maximum protection.

Choose from popular colors
| | | |
| --- | --- | --- |
| Black | Gray | Tan |
| Blue | Burgundy | Black w/ Gray |
| Black w/ Tan | Black w/ Blue | Black w/ Burgundy |
Create your own Color Combination:

Long lasting, waterproof car seat
Washable & can be surface cleaned
Excellent for truck & industry use
Request Free
Fabric Samples
Cordura Custom waterproof seat cover is for those who value maximum protection. Excellent for construction, heavy industry use, or as a Pet Seat Cover. All Cordura waterproof car seat covers are Custom made for your vehicle.
Cordura Benefits
Cordura seat covers for maximum durability
Cordura is a high-performance fabric resistant to abrasions, tears, and scuffs
Cordura stands for durability
Cordura is:

2 x more durable than standard nylon
3 x more durable than polyester
10 x more durable than cotton duck
Customer Reviews for Cordura Seat Covers
Review by
Carrie F
from Williams Lake, BC:
Vehicle: 2012 Dodge Ram Pickup 2500-5500 HD
Review by Therie B from Calgary, Alberta:
Vehicle: 2014 Dodge Ram Pickup 1500
Product: Cordura
Date: 2015-03-28
My husband is a painter and needed something to protect the front seats and head rests. He seen the reviews from Shear comfort and purchased the covers for our new vehicle. They were easy to install and very durable. They felt stiff at first but after a month of having them they have softened and are now very comfortable. My husband highly recommends them and plans to purchase the back seat covers in the next little while.
Review by Andrew Z from Waukesha, WI:
Vehicle: 2013 Ford F450/550
Product: Cordura
Date: 2015-03-27
They seem to last very well I take care of the companys vehicals and guys are getting in and out of them all day long
Review by Thomas W from Cambridge, MD:
Vehicle: 2015 Dodge Ram Pickup 2500-5500 HD
Product: Cordura
Date: 2015-03-26
the driver side seat cover did not fit as smoothly as the passenger side did. It is ok just not as nice as the other side.
Review by Pam G from Elgin, IL:
Vehicle: 2013 Mazda 5
Product: Cordura
Date: 2015-03-26
These were purchased for a delivery vehicle and hold up well! This was the second set purchased.
Review by Jessica H from Butte, MT:
Vehicle: 2013 Toyota Camry
Product: Cordura
Date: 2015-03-26
The cordura fabric is really nice considering I've got 3 dogs. The only problem I have is they don't fit the top half of my seats. My bucket seats stick out on the sides and dip down into the back. The seat cover bubbles out in this area. It's slowly going down so it's not uncomfortable.
Review by Leslie B from Hereford, AZ:
Vehicle: 2013 Ford Edge
Product: Cordura
Date: 2015-03-26
I carry a lot of dogs in my car and the hair and mud just wipes right off!
Review by Jamie M from Ridgewood, NJ:
Vehicle: 2006 Ford F150 Extended Cab
Product: Cordura
Date: 2015-03-25
The only thing holding me back from a 5 star rating is that the bottom half of the cover seat portion also covers the hand controls for the seat. Great product over all.
Review by Clark S from Torrance, CA:
Vehicle: 2010 Chevy Silverado
Product: Cordura
Date: 2015-03-25
Seat covers look and fit great. Head rest covers didn't fit so good.
Review by Joseph W from Lebanon, OH:
Vehicle: 1998 Jeep Wrangler
Product: Cordura
Date: 2015-03-20
The seat covers for me 1998 Jeep fit my seats very well the color is just as promised. For this older car the covers had to be constructed after the order. From the order to delivery was less than there weeks - pretty quick!!