Cordura Seat Covers
4.5 / 5 Rating (

491

Reviews)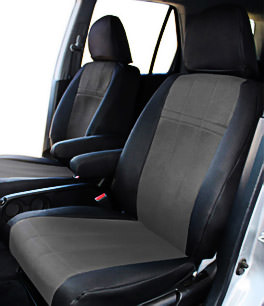 Durability
Comfort
Fit
Protection
Custom Fit to Your Seat
Start Here
About Fabric: Highly durable Cordura fabric with laminated backing offers rugged performance, with maximum protection.

Choose from popular colors
| | | |
| --- | --- | --- |
| Black | Gray | Tan |
| Blue | Burgundy | Black w/ Gray |
| Black w/ Tan | Black w/ Blue | Black w/ Burgundy |
Create your own Color Combination:

Long lasting, waterproof car seat
Washable & can be surface cleaned
Excellent for truck & industry use
Request Free
Fabric Samples
Cordura Custom waterproof seat cover is for those who value maximum protection. Excellent for construction, heavy industry use, or as a Pet Seat Cover. All Cordura waterproof car seat covers are Custom made for your vehicle.
Cordura Benefits
Cordura seat covers for maximum durability
Cordura is a high-performance fabric resistant to abrasions, tears, and scuffs
Cordura stands for durability
Cordura is:

2 x more durable than standard nylon
3 x more durable than polyester
10 x more durable than cotton duck
Customer Reviews for Cordura Seat Covers
Review by
Gregory Rogers
from Woodbury, MN:
Review by Jerome Salvador from Fresno, CA:
Vehicle: 2014 Chevy Silverado
Product: Cordura
Date: 2014-10-15
One of the straps came loose from the sewing when tightening bottom cover to sear cushion.
Review by Michael King from Prescott, AZ:
Vehicle: 2007 Toyota Tundra
Product: Cordura
Date: 2014-10-16
all is good... quality color ease of installation I will miss the back seat pocket that the covers hide but I can deal with it
Review by David Normile from Shawnee, KS:
Vehicle: 2014 Nissan Rogue
Product: Cordura
Date: 2014-10-16
Fit great a little stiff but was expecting that after talking to Andy. Amazed that Andy email me to confirm I was ordering the best option for my car! Great customer service!!! MY only complaint is the new smell from these covers. It was very strong and for it to get to me it has to be over the top strong! I let them sit out in the garage for a few days to air out. The smell is fading rapidly with time... That said I'm still planning on ordering a set for the back seat...
Review by Marc Diotte from Sault Ste Marie, ON:
Vehicle: 2013 Dodge Ram Pickup 1500
Product: Cordura
Date: 2014-10-16
Good quality look and fit great easy to install. Well stitched colors match interior. Will save the soft cloth seats from ware and tare.
Review by Elizabeth Maddux from Broomfield, CO:
Vehicle: 2014 Toyota Highlander
Product: Cordura
Date: 2014-10-15
Fit beautifully and material is good looking and seems strong
Review by Kristy Hinko from Stony Plain, Alberta:
Vehicle: 2003 Dodge Ram Pickup
Product: Cordura
Date: 2014-10-15
Their good quality better then what we have found in the past. Fits very snug.
Review by David Houghton from ocala, FL:
Vehicle: 2006 Dodge Dakota
Product: Cordura
Date: 2014-10-14
These covers are the nicest I have ever purchased. Quality is excellent and the fit was greatlooking for covers these are the ones!!
Review by Rob Flower from Oshawa, Ontario:
Vehicle: 2015 GMC Sierra
Product: Cordura
Date: 2014-10-11
Very durable but still comfortable. They fit very well and don't slide around. They're also a snap to install.
Review by David Moore from RICHMOND, VA:
Vehicle: 2014 Toyota Tundra
Product: Cordura
Date: 2014-10-06
Second time I've ordered seat covers from ShearComfort. Very fine seat covers. The headrest covers this time do not fit.