Cordura Seat Covers
4.5 / 5 Rating (

560

Reviews)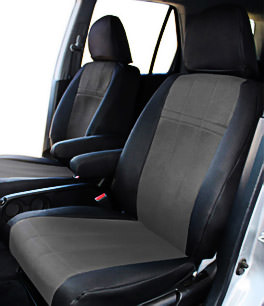 Durability
Comfort
Fit
Protection
Custom Fit to Your Seat
Start Here
About Fabric: Highly durable Cordura fabric with laminated backing offers rugged performance, with maximum protection.

Choose from popular colors
| | | |
| --- | --- | --- |
| Black | Gray | Tan |
| Blue | Burgundy | Black w/ Gray |
| Black w/ Tan | Black w/ Blue | Black w/ Burgundy |
Create your own Color Combination:

Long lasting, waterproof car seat
Washable & can be surface cleaned
Excellent for truck & industry use
Request Free
Fabric Samples
Cordura Custom waterproof seat cover is for those who value maximum protection. Excellent for construction, heavy industry use, or as a Pet Seat Cover. All Cordura waterproof car seat covers are Custom made for your vehicle.
Cordura Benefits
Cordura seat covers for maximum durability
Cordura is a high-performance fabric resistant to abrasions, tears, and scuffs
Cordura stands for durability
Cordura is:

2 x more durable than standard nylon
3 x more durable than polyester
10 x more durable than cotton duck
Customer Reviews for Cordura Seat Covers
Review by
Steven B
from Olympia, WA:
Vehicle: 2007 Chevy Silverado
Review by Carrie G from St Catharines, ON:
Vehicle: 2014 Dodge Ram Pickup 1500
Product: Cordura
Date: 2015-01-21
The front covers look great! The back covers I am not so happy with. They don't fit very well and don't look good with all the wrinkles and puckering. But on the up side the seats will still be protected and that is the reason for buying them.
Review by Karl M from Silex, MO:
Vehicle: 2014 Subaru Forester
Product: Cordura
Date: 2015-01-21
These seat covers fit well and appear to be tough We have been very pleased so far. If I could ad 1 suggestion it would be instructions on removing the rear seat lower cushion other than that very good Thanks Karl
Review by Brian S from Hanska, MN:
Vehicle: 2012 Ford F150
Product: Cordura
Date: 2015-01-22
I had some problems with my first set but the company replaced them free of charge. Great covers they fit well and are very durable.
Review by Alexander M from Hampshire, TN:
Vehicle: 2014 Dodge Caravan / Grand Caravan
Product: Cordura
Date: 2015-01-22
Seat covers are beautiful and fit perfectly. Easy to install in minutes. Very comfortable. Shearcomfort thought of everything. Great pepole to deal with. Highly recommend them.
Review by Karen J from Fort Wayne, IN:
Vehicle: 2003 Chevy Silverado
Product: Cordura
Date: 2015-01-15
This is a very nice seat cover.Love the Cordura. Easy to put on and easy to clean.I would purchase this again if something happened to the one we have now.
Review by William J from Morgan Hill, CA:
Vehicle: 2013 Ford F150
Product: Cordura
Date: 2015-01-14
The seat covers are well tailored for a good fit but the strap design holding them in place on the seat could be much improved. Think Velcro like what you use for the seat back.
Review by Karen W from Portland, OR:
Vehicle: 2014 Nissan Versa Note
Product: Cordura
Date: 2015-01-10
Customer service was amazing. I didn't quite get the covers to strap on securely but they look good and are doing their job.
Review by Gail S from Whistler, BC:
Vehicle: 1998 GMC Sierra
Product: Cordura
Date: 2015-01-09
they look great but i had problems putting the front seat covers on properly!otherwise love them
Review by Donna C from Creston, British Columbia:
Vehicle: 2011 Nissan Frontier
Product: Cordura
Date: 2015-01-08
This is a durable easy to clean product. The service we received from the company representative was exceptional. He was thorough in obtaining the correct information in order to get a proper fit!