Sheepskin Seat Covers
4.7 / 5 Rating (

578

Reviews)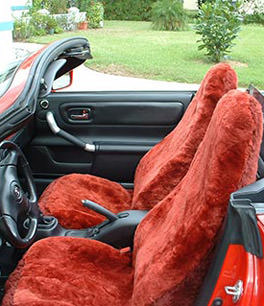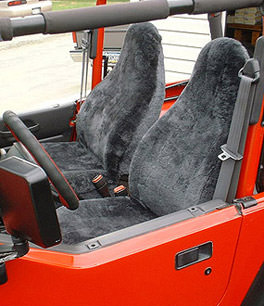 Durability
Comfort
Fit
Protection
Seat Airbags are airbags that deploy through the side of your seat.
Many new vehicles have the option of having side impact air bags in the driver and passenger front seats. This is a safety device on the vehicle.
Our seat covers are made Seat Airbag compatible to allow for airbag deployment.
How do I know if I have Airbags in Seat?
Seats with Airbags are marked with a small tag that will say "Airbag" or "SIAB". This can also be embossed on the side panel of the backrest or with a warning sticker on the inside of the door frame.
Custom Fit to Your Seat
Start Here
We use the finest Australian Merino wool for your custom fit sheepskin seat cover.
Available Colors

Charcoal

Medium Gray

Black

Tan

Camel

Pearl

Silver

Dark Silver

Mushroom

Brown

Blue

Burgundy
Merino is known for having the densest wool fiber, which makes for an excellent sheepskin seat. Denser wool does not "pack down" and is a better choice for sheepskin seat covers for cars. With proper care and maintenance, your seat cover will keep its original appearance even after years of use.
Machine Washable
Maximum Comfort
Lasting Good looks
Best Quality, Lowest Price
Request Free
Fabric Samples
Sheepskin Seat Styles - Which style do you prefer?
Universal
• Made with Real and
Imitation Sheepskin
• Universal Fit
• In-stock
• Covers back of seat
$279.00
from $237.15
per pair
Custom
• 100% Real Sheepskin
• Custom sizes to fit your
vehicle
• In-stock
• Map pockets accessible
• Great value
$375.00
from $318.75
per pair
Tailor-Made
• Made with Real and
Imitation Sheepskin
• Exact Fit
• Covers back of seat

$585.00
from $497.25
per pair
---
Comfortable Seats
Sheepskin is a natural insulator - your seat will feel warm in the winter, cool in the summer. Sheepskin allows the air to flow between you and your seat, creating a natural insulation effect that will keep you at a comfortable temperature all year round. Sitting on fleece supports the body and reduces pressure points, allowing for maximum comfort even on long drives.
Durable Sheepskin Car Seat Covers with Protection
Each sheepskin seat cover has a leather hide with one-inch fleece. This creates a protective layer over your seats which will stop all dust, dirt and spills. These seat covers are very durable and have been known to last up to 15 years on the same vehicle.
Sheepskin - More Information:

Seat Maintenance:
Vacuum your seats regularly to get rid of dust and dirt. A wide tooth comb or wire brush will maintain the condition and look of your fleece seat. For regular bucket seats, rotate the driver and passenger seat covers to insure even wear and longevity. With proper care, your car sheepskin will maintain its attractive look and continue to serve you well for years to come.

Cleaning your fleece seat:
Wool fleece is a natural fiber that resists soiling, which simplifies cleaning. In most cases, spot cleaning with warm water and mild soap is all that's necessary. Remove your seat cover occasionally to shake it out - this also removes loose dirt and restores the sheepskin fleece to its original condition. Remember that your seat cover is a fine woolen product and needs to be treated as such. Harsh washing or drying can cause permanent damage. Dry cleaning is recommended. If the seat cover is soiled, you can wash it yourself without causing damage by following these instructions:
Hand wash in cool to lukewarm water, using a mild soap designed for sheepskin.
Rinse thoroughly with cool water and gently remove excess water.
Do not put in dryer. Dry naturally without using direct heat. Stretch during drying to prevent shrinkage.
Once it's dry, brush up fleece with a coarse pet brush to restore it.
Brush and vacuum at least once a month.
If you are not comfortable cleaning the seat covers yourself, find a dry cleaner that specializes in cleaning leather. With proper care, your seatcovers will maintain their original appearance and serve you well for many years.

Seat Covers with Airbags:
Shear Comfort seat covers can be altered to accommodate side airbags in the vehicle seat.
Warranty:
All Shear Comfort seat covers have a 1-year warranty against any defects in workmanship and materials. Additionally, Shear Comfort will guarantee the fit of all products whether universal or custom. Note: No returns for warranty or otherwise will be accepted without an RGA (Return Goods Authorization) number. See Return Policy.
Customer Reviews for Sheepskin Seat Covers
Review by
Richard W
from North Hollywood, CA:
Vehicle: 2014 Ford Escape
Review by Kenneth M from GOODE, VA:
Vehicle: 2010 Buick Enclave
Product: Sheepskin
Date: 2015-02-19
outstanding fit and quality. We were very pleased with the service team as well.
Review by Martin B from bellevue, KY:
Vehicle: 2015 Scion IQ
Product: Sheepskin
Date: 2015-02-19
Perfect ! Made driving comfortable and that is as it should be.
Review by Robert S from Oceanside, CA:
Vehicle: 2010 Toyota RAV4
Product: Sheepskin
Date: 2015-02-16
Just went to put the covers on my wife's vehicle today and was disappointed covers for the headrests were not included. The seat covers themselves seem nice enough. However it looks pretty hokey with the headrests uncovered.
Review by Clyde P from Salisbury, NC:
Vehicle: 2013 Lexus ES
Product: Sheepskin
Date: 2015-02-12
I found the covers difficult to install and the fit was less than perfect. There was also an extra strap that seems to hang there with no matching strap
Review by Janet B from Batesville, AR:
Vehicle: 2014 Chrysler Town and Country
Product: Sheepskin
Date: 2015-02-12
The quality of the Sheepskin covers was excellent both in product and manufacture. The actual color matched the sample perfectly - no surprises. Installation was straightforward. One thing to improve: the installation guide showed a step for cutting holes for the headrest while the actual covers had velcro slits built in. It would have been helpful if the guide showed the presence of the velcro slits. The covers are as comfortable as advertised. I wish I had bought them for all of my vehicles! Great product and customer service. Thanks!!
Review by Diana D from Tellico Plains, TN:
Vehicle: 2011 Subaru Outback
Product: Sheepskin
Date: 2015-02-11
The custom design made placing on them as intuitive as an iPhone. they fit perfect! And they are so yummy to sit on!! true luxury!!
Review by Anna M from Calgary, AB:
Vehicle: 2013 Mercedes Sprinter Van
Product: Sheepskin
Date: 2015-02-08
I highly recommend Shear Comfort for their courteous service and their quality product. Our experience with them is is A1.
Review by Francis F from bantam, CT:
Vehicle: 2012 Chrysler 200
Product: Sheepskin
Date: 2015-02-07
Were easy to install seem to be high quality fit like a glove
Review by Greg W from Fort Defiance, VA:
Vehicle: 2008 Mazda Miata
Product: Sheepskin
Date: 2015-02-05
Excellent quality and workmanship. Color was great match to interior leather. I have one of your covers that is over 10 years old and still like new