With the impact of COVID-19, there are many out there who are spending their time at home in front of their computer working remotely. However, not everyone has that ability in their line of work.
Rather than typing at a computer, they are behind the wheel every day. If you're someone who is a part of an essential service crew or emergency team who uses your vehicle every day, first of all, we'd like to say Thank You. Secondly, we feel it's important to help anyone who is on the road keep their vehicle safe for their drivers just as much as the drivers are keeping us safe. Essential, Emergency, and Health Care services workers' daily routine might consist of going from one location to the next, increasing risk of exposure to viruses and other pathogens.
It has become extremely important to find ways to maintain a germ-free interior as much as possible. In order to do so, there are a few things you can do to clean your car interior from harmful viruses, like COVID-19.
We've created an easy to follow guide to get the job done so you can keep doing yours - safely.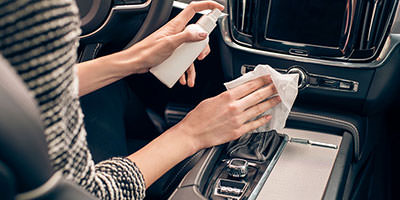 1. Protect Yourself First
When you want to disinfect a car interior from any possible COVID-19 (Coronavirus) bacteria, it's always a good idea to suit up to keep yourself safe.
You can wear gloves, a proper face mask, and even goggles if you have them, to stop yourself from breathing in any germs that might become airborne when you start vacuuming and wiping surfaces. This will help reduce exposure, but won't eliminate completely.
2. Remove All Unneeded Belongings and Garbage
Start by taking out anything you don't need in your car. The less there is to clean, the easier it will be. For obvious reasons, dispose of any garbage or scraps to keep your working environment as waste-free as possible.
3. Get Rid of the Hidden Dirt and Germs
The best way to remove all the hidden dirt and unwanted germs in all those small cracks and crevices is by using a vacuum with a long nozzle attachment. Start with the front driver side, where you're likely to have the most contact. Make sure to use the long nozzle to pick up everything in the door panel, crevice of the seat, console area, etc..
Once you've worked your way through the vehicle, hitting up all those hidden spots, you will already see a difference (no more crumbs in the cracks!) but you're not done vacuuming yet.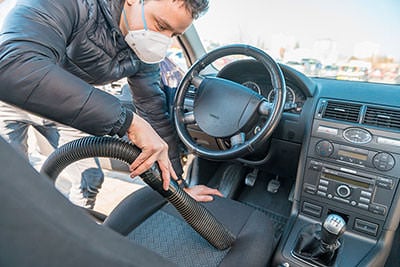 4. Vacuum Upholstery and Carpeting
Vacuuming your seats, all upholstery and carpeting is a crucial step to a clean car. These steps are a great start to deep cleaning your car interior without getting it detailed professionally. This step will take the longest and rightfully so. You will want to spend a fair amount of time, really using the vacuum to pull up the dirt, debris and germs from all upholstery in your vehicle.
If you have access to a wet/dry vacuum, this is a great tool for deep cleaning your upholstery. Be sure to let your vehicle's upholstery fully dry though. This can be easily done by cracking the windows while it's safely stored in your garage or in the parkade if you're at work.
Once you've gone through your whole vehicle and vacuumed all the upholstery, you're well on your way to having a clean and sanitary vehicle.
5. Clean All Hard Surfaces
Vacuuming is only part of the process for how to disinfect a car's interior. You will also have to take some time to clean those hard surfaces throughout your car.
You can use Clorox wipes on your dashboard and other surfaces. However, as we all know, it's virtually impossible to find those anywhere anymore. Luckily for us, soap and water will do the trick too.
Make up a bowl of soapy warm water solution and grab a clean cloth. Immerse the cloth into the water and ring out until no longer dripping. Start working your way through your vehicle, cleaning all hard surfaces that could be touched by you or your passengers.
You can use the same soap solution a few times. However, if the water is clearly getting dirty, replace it a few times throughout the cleaning process.
If you're lucky enough to have Lysol or Clorox wipes, plan on using a few to work your way through your vehicle's surfaces.
6. Use a Spray Disinfectant on Upholstery
If you're able to locate disinfectant spray, you can use this step to spray down your upholstery as Lysol wipes are not as effective if you have upholstered seats.
If you have a leather cleaner, there are ingredients in these cleaners that may also have disinfecting properties to them. Check out the bottle if you have one stashed in your garage or under your sink. One recommended leather cleaner that is specifically designed to clean and disinfect your leather without damaging it, is Straight Cleaner 2.0 - Premium Leather Cleaner. It's always important to condition your leather seats after cleaning and disinfecting to avoid drying the leather upholstery.
After you've vacuumed, cleaned all the surfaces and probably worked up the appetite, you have now significantly reduced the dirt and germs - creating a safer mobile work environment.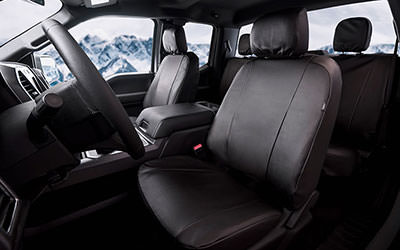 7. How to Keep Your Car Clean for Longer
Now that you have a clean car, it's time to figure out the best ways to keep it clean - for longer.
The Quick Fix
You can do this easily and quickly by bringing some supplies along with you. You can bring along:
To-Go Wet Wipes
Smaller bottle cleaning spray
Disinfectant spray (if you found some)
Paper towel
The Long-Term Fix
Although the items above are quick fixes and will help maintain the cleanliness of your vehicle's surfaces for the most part, your upholstery is going to need some major upkeep and maintenance in the long term since it can hold a lot of germs.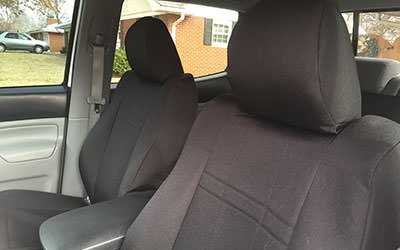 When you have cloth upholstery in your vehicle, these types of surfaces are more porous and absorbent making them harder to clean and disinfect. Seat covers are a good solution for drivers who want to clean their vehicle quickly and effectively (or those where it's a requirement). This type of automotive accessory can prove to be both effective in cost and maintenance.
A few solid options for seat covers that are super easy to clean are:
Pro-Tect vinyl Seat Covers: Vinyl seat covers are certainly the easiest because they have that smooth surface where dirt will just fall off and can be sanitized quickly. Waterproof and abrasion-resistant material ideal for working environments as well.
CORDURA® Seat Covers: CORDURA® is a tightly woven material that can be vacuumed and wiped down without much effort. These are extremely high wearing; great for industry work.
Neoprene-Style Seat Covers: Neoprene-Style seat covers are also easily vacuumed and can be spot cleaned on the go, as needed. Adds a bit more comfort and ideal for passenger vehicles.
Each type of seat covers will protect your seats, shielding them from germs. But the real reason to get seat covers is because unlike cloth upholstery, seat covers are all far easier to clean and disinfect.
For those who have leather seats, you might be thinking to yourself that you're in the clear because you already have an easy-to-clean car. While you might be able to wipe down your leather seats quickly, there is something to consider. For natural products like leather, using Lysol wipes or cleaning solutions on them can take a toll on their overall aesthetic and longevity.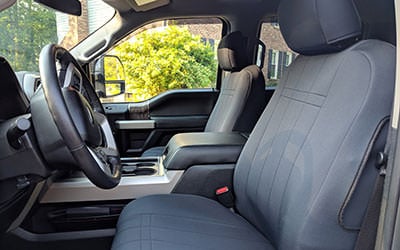 Using these types of cleaning products on your leather seats on a regular basis can actually dry them out - leading to cracking and splitting over the long term. This can be costly, causing you and/or your business to take a significant financial hit (if it's a work vehicle). Seat covers can keep your leather protected so you won't have to worry about this type of upholstery damage.
In general, seat covers will make any cloth or leather seats easier to clean, disinfect, and maintain the integrity of your interior.
As mentioned at the beginning, for those who need to be out there right now, keeping your work environment safe and clean is crucial to keeping you safe and healthy. For those who use their vehicle on the daily, we hope that this guide has given some insight as to how to clean your car.
Wash your hands, wash your cars, and stay strong everyone.