When you discover you have a love for Camo, there's no sense is denying or hiding it! As a proud Camo lover, personalizing your car or truck is just one of many ways of showing off just how much you dig the Camo look.
How should you go about customizing your truck with Camo? One easy, affordable, and awesome way is with Camo Seat Covers.
The best part is that with these truck accessories, you won't just be adding style to your truck; you'll be protecting the original upholstery at the same time. Nothing better than a two-for-one shot, right?
In this article, we'll give you some of the best options on how to customize your truck interior with Camo Seat Covers. We have tons of styles of choose from so let's get started.
How to Customize Your Car or Truck with Realtree Camo Seat Covers
1. Custom AP Seat Covers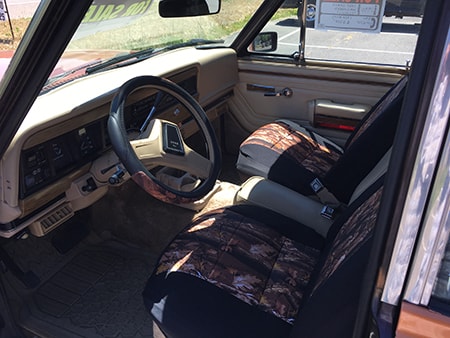 Photo Credit: Jeffery F.
For the Everyday Camo Lover
Our durable and waterproof, Realtree Camo AP Seat Covers are not just geared for hunters, but double as a great option for everyday use due to the neutral colors and tones of the AP pattern. The subdued and natural grays and browns of the design will complement many truck interiors. While the colors may be unobtrusive, the intricate design is by no means lackluster. Each branch, twig, patch of mossy underbrush has been placed strategically to create a Camo pattern so life-like you'll blend into all your surroundings. A perfect pick to customize your truck that is used for any passtime or daily driving.
2. MAX-5 Seat Covers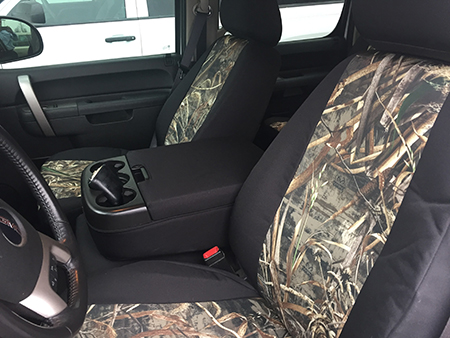 Photo Credit: Keith E.
For All Kinds of Hunting
A newer addition to our Realtree Camo family are the very durable, waterproof Max 5 Seat Covers. Max-5 has become an instant favorite among Camo lovers. With waterfowl hunting being the main focus for this camo (like Max-4 which we will get to next), the pattern features all things found in the open fields. Cattails, reeds, oak leaves, flooded marshes, with the added realistic touch of sunflowers and wheat are all there to maximize the realism.
While our Max-5 Camo Seat Covers add a layer of invisibility to your truck's interior, it also adds a layer of protection. The 600 Denier polyester/nylon blend fabric will stand up against any hunting gear, work tools or activewear.
How to Customize Your Truck with Kryptek Camo Seat Covers
How to Customize with Moon Shine Camo Seat Covers
How to Customize with Mossy Oak Camo Seat Covers
Next Level of Customization: Kick It Up a Notch with our Luxury Line Camo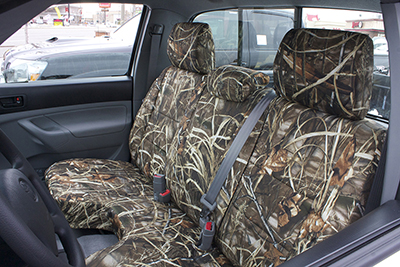 Now that we've gone through the 12 types and the best and cool ways to customize your truck with Camo Seat Covers, it is time to kick it up a notch and give you a quick introduction to ShearComfort's Luxury Line.
We offer many of our Camo patterns in our Luxury Line. While the patterns are the same, there are three upgrades to these truck accessories, qualifying them to be a part of our high end line: quality material and durability, immaculate attention to detail, and an unbeatable aesthetic. Each upgraded feature of these Camo Seat Covers enhances the quality and look of the finished product.
This means you not only get the Camo pattern you love and the protection needed, but you also get the luxury you want. Read more about our Luxury Line to see the benefits of upgrading.
NOTE: We love our Luxury Line and think you'll be impressed with it too. We'd like to point out that all our seat covers are made of high quality automotive grade material. All of our custom seat covers also come with a fitment guarantee. Rest assured that any product you order from us, will look amazing and protect your seats as you need them to.
Bottom Line About Customizing Your Car with Camo Seat Covers
Camo Seat Covers are a fun and effective way of customizing your truck yourself. Fun because you get to incorporate your favorite camouflage pattern into your daily driver and next hunting trip. Effective because you'll be protecting your seats from stains, spills, and general wear and tear that occurs from daily use. Additionally, if you use your truck for hunting (or work for that matter), this type of usage can cause even more damage long term. Double down with your favorite Camo Seat Covers!
How will you customize your truck interior?