Ford truck seat types change quite often. It is important to know the different options TO determine what you have in your Ford truck. By knowing your exact Ford seat, you will get the seat cover that will fit your Ford truck perfectly.
In this article we will cover:

Identifying Important Features of Your Ford Seats
Identifying What Type of Ford Seat You Have
Identifying Important Features of Your Ford Seats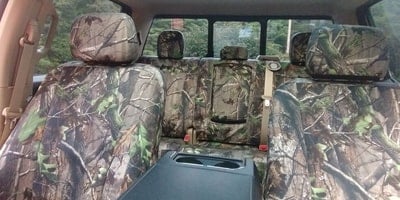 Photo Credit: Nathan M.
To begin, we will point out seat features you can expect to find in your Ford F150. The different seat types will be explained in detail once we've covered the basics.
Does Your Ford Have Headrests?
Prior to 2004, Ford trucks had seats with three types of headrests: Molded Headrests, High Backs, and Adjustable.
Molded Headrests are a part of the seat and cannot move up and down.
High Backs do not have separate headrests. The entire backrest is simply longer and narrows towards the top.
Adjustable Headrests allow you to move the headrest to the preferred height and angles. This adds superior functionality and comfort. All Ford F-150 trucks from 2004 onwards have been made with this design. However, there are some 40/20/40 and 60/40 seats that don't have headrests for the middle seat.
Do You Have a Center Console or Pullout Arm?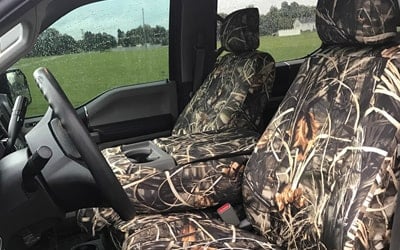 Photo Credit: Josh V.
A Folddown Center is built into every 40/20/40 split. There are three different styles: Opening Console, Solid Arm, and Solid Arm with Cupholders.
The Fold Down Opening Console has a storage compartment which can be opened and closed. It also has a cupholder space on the front part of the console.
The Solid Arm has no storage compartments inside, it simply folds down to offer armrest comfort.
The Solid Arm with Cupholders has the same design as the Solid Arm but with the added convenience of cupholders.
The Pullout Arm is found in many 60/40 configurations, as they are most commonly used for rear seats. This arm can also be folded down and can be used as a basic armrest for back seat passengers. When folded up, the arm will fit snugly into the backrest part of the seat to allow room for three people.
Do You Have an Integrated Seatbelt (Seatbelt in Backrest),?
When seatbelts are built into the backrest itself, they are often referred to as integrated seatbelts. Integrated seatbelts were primarily used in Super Cabs (Extended Cabs),. The reason for this is because there was no pillar for the seatbelt to be bolted onto.
Integrated seatbelts were built into 40/20/40 seats, 60/40 seats, and bucket seats. However, they have not been used in the Ford F-150 since 2015.
Identifying What Type of Ford Seat You Have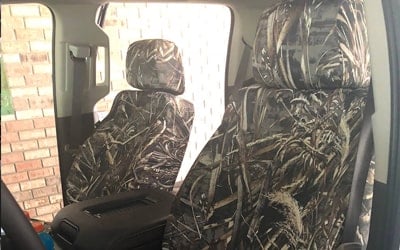 Photo Credit: Dale G.
What Do the Numbers Mean?
Numbers are used to represent the way the seats are split into foldable parts. In other words, you can think of the numbers as percentages, considering that the entire width of your seats is 100%. The numbers are organized according to the driver's side (from left to right),.
The seat types for your Ford truck could be the following:
Do You Have Buckets?
Bucket seats are two equal sized individual seats with a space between them. The space in the middle will usually have a floor mounted console. This configuration is only used for front seats.
Captain Chairs refers to bucket seats with built-in folding armrests. The Ford F150 had Captain Chairs with high back buckets installed until the year 2000.
Do You Have a Solid Bench?
Often referred to as a full bench, this Ford F150 seat has a single cushion that goes across the entire width of the vehicle and fits three people.
Since the solid bench has no splits, it cannot be partially folded and was only installed for front seating.
Do You Have 40/20/40 Split Seats?
This seat type is a three seater bench that is split into three separate sections.
The outer seats are wider and each takes up 40% of the seating space. The center seat, or jump seat, is a smaller seat which can be folded up or down and takes up 20% of the space. The 40/20/40 split is only used for the front seats of Ford trucks.
Do You Have 60/40 Split Seats?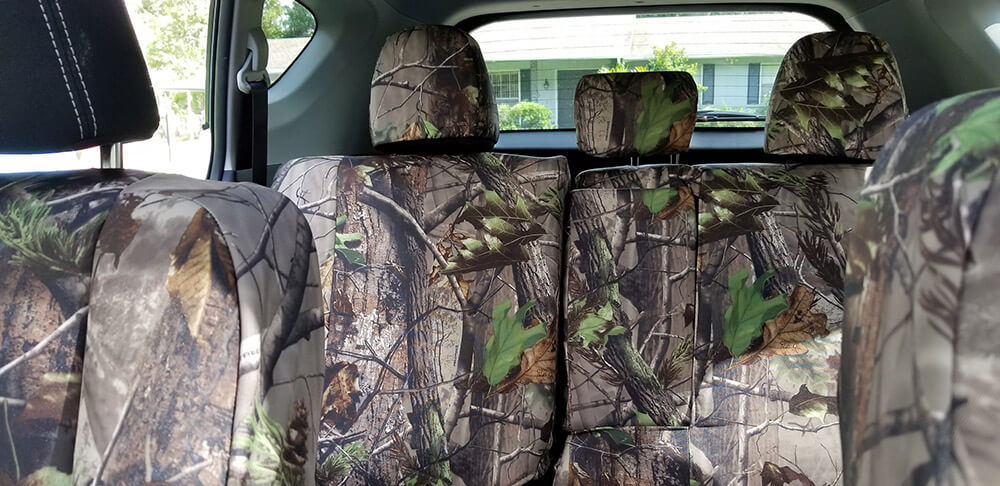 Photo Credit: Susan C.
The 60/40 split fits three people and is divided into two sections. One section, the 60 portion, being larger. The 60/40 layout is used for both front and back seats. However, it is more commonly used for back seats.
If the numbers are reversed it simply means the seats are also reversed. 40/60 seats have the single seating space on the left side (40%), and double seating space on the right side (60%),. This configuration is more common for front seats.
If your rear seats have a 60/40 or 40/60 split, pay close attention to the backrest area. It can either be solid or split. If the backrest is solid, then it will only have the ability to fold completely down, while the seat's bottom portion will have the option of folding partially or fully. Backrests with a split back will have the same folding options as the bottom of your seats.
Seat Features Can Affect the Fit of Your Seat Cover
As you have now learned, there are many kinds of seat features and configurations for Ford F Series trucks. Many of the details may seem small, but they are important when it comes to getting the right custom seat covers for your Ford F150, F250, or F350.
When you decide to order seat covers it will be extremely helpful to know what all these terms mean and how they differ, so that you can find exactly what you need without breaking a sweat.