OEM Seat Covers
4.6 / 5 Rating (

162

Reviews)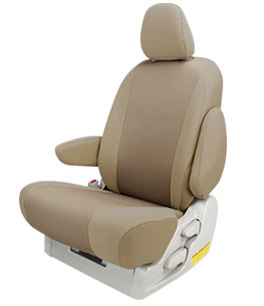 Durability
Comfort
Fit
Protection
Custom Fit to Your Seat
Start Here
About Fabric: Heavy weight OEM cloth looks, feels, and fits like original upholstery - but can be removed for cleaning.

It has a cloth trim on skirt and back sleeve.

Excellent for industry use.
| | | |
| --- | --- | --- |
| Tan | Gray | Charcoal |
OEM seat covers are easy to install slip-over seat covers (not replacements). Designed with full coverage, they make a protective second skin over your seat.

OEM fabric on the front face and solid color matching accents on sides, skirt and back of seat. Available in custom sizes for your car, truck or van.

Easy-to-install, high wear fabric
Protective second skin over your original seat
Machine washable
Request Free
Fabric Samples
OEM Seat Covers - More Info
The ultimate custom seat covers look like your original seats. Made from heavy weight OEM cloth. Maximum protection for your original seats. Easy installation.
All OEM seat covers are custom made for each specific vehicle. These need to be ordered by choosing the exact make, model, year and seat description as shown in the custom search tool above.
Installation Info
For detailed installation instructions visit the OEM Seat Covers Installation Instructions page.
Customer Reviews for OEM Seat Covers
Review by
Lou Carron
from Miller Place, NY:
Vehicle: 2010 Dodge Ram Pickup 2500-5500 HD
Review by Mark Gunn from San Antonio, TX:
Vehicle: 2004 Ford Econoline E Series Vans
Product: OEM
Date: 2014-11-26
The covers are excellent. However it was difficult to put them on my van's seats my left hand was cut up quite a bit.
Review by Chalmer Bernhard from needmore, PA:
Vehicle: 2006 Ford F150 Extended Cab
Product: OEM
Date: 2014-11-12
I like the seat covers look and fit but didn't like the 4week wait to get them
Review by Ilse Worrell from Hollywood, FL:
Vehicle: 2003 Toyota Sequoia
Product: OEM
Date: 2014-11-05
I liked that these were the only seat covers to offer an arm rest cover...they tend to slide all over the place so I would suggest an inside gripping material.
Review by DAVID GROESBECK from MURRAY, KY:
Vehicle: 2005 Ford Ranger
Product: OEM
Date: 2014-10-29
FIT GREAT LOOK GREAT. OUTSTANDING COMPANY TO DO BUSINESS WITH.
Review by Todd Firer from Waukesha, WI:
Vehicle: 2011 Toyota Prius
Product: OEM
Date: 2014-10-23
Seat covers are very nice but for $220 they should be! Only disappointment was there were no pre-cut finished holes for the headrest posts so we had to very carefully cut holes for them which is pretty dicey I mean if you screw it up you're stuck. Oh and it took over 3 weeks to get them which is a bit slow.
Review by Gina Surratte from Fremont, NH:
Vehicle: 2003 Commercial National Seating
Product: OEM
Date: 2014-10-20
great seat covers. fit like a glove! durable. seem to be well made. only had them on a week or so too early to tell how well they wear. they fit perfectly though!
Review by Paul Schmid from Cissna Park, IL:
Vehicle: 1989 Ford F Series All Cabs
Product: OEM
Date: 2014-10-19
Fantastic. Fit well look good delivered quickly. More pricey than the average seat cover but well worth the extra money. This was the only seat cover I could find that fit a fitted bench seat in my older ford xlt. The bench seat has the built in head rests and this cover had the cuts and folds to fit that without spanning over the middle like most covers do. Highly Highly recommend.
Review by Paul Forsyth from Burlington, ON:
Vehicle: 2005 Dodge Ram Pickup
Product: OEM
Date: 2014-10-18
I purchased the seat covers and received them soon after the order was placed. THe installation instructions were easy to follow and the install required no tools. I have had the covers installed for about a month and they have stayed in place with no problems whatsoever. Very happy with the Seat Covers.
Review by Kevin Jones from Millersville, MD:
Vehicle: 2005 Ford Expedition
Product: OEM
Date: 2014-10-09
Love the covers best investment I haver made on the cosmetic and functional improvement of my trick. They fit like a glove. Color matched my interior. Easy to put on. Excellent product.