OEM Seat Covers
4.6 / 5 Rating (

154

Reviews)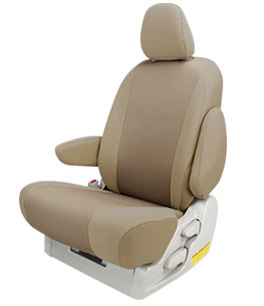 Durability
Comfort
Fit
Protection
Custom Fit to Your Seat
Start Here
About Fabric: Heavy weight OEM cloth looks, feels, and fits like original upholstery - but can be removed for cleaning.

It has a cloth trim on skirt and back sleeve.

Excellent for industry use.
| | | |
| --- | --- | --- |
| Tan | Gray | Charcoal |
OEM seat covers are easy to install slip-over seat covers (not replacements). Designed with full coverage, they make a protective second skin over your seat.

OEM fabric on the front face and solid color matching accents on sides, skirt and back of seat. Available in custom sizes for your car, truck or van.

Easy-to-install, high wear fabric
Protective second skin over your original seat
Machine washable
Request Free
Fabric Samples
OEM Seat Covers - More Info
The ultimate custom seat covers look like your original seats. Made from heavy weight OEM cloth. Maximum protection for your original seats. Easy installation.
All OEM seat covers are custom made for each specific vehicle. These need to be ordered by choosing the exact make, model, year and seat description as shown in the custom search tool above.
Installation Info
For detailed installation instructions visit the OEM Seat Covers Installation Instructions page.
Customer Reviews for OEM Seat Covers
Review by
Paul Forsyth
from Burlington, ON:
Vehicle: 2005 Dodge Ram Pickup
Review by Kevin Jones from Millersville, MD:
Vehicle: 2005 Ford Expedition
Product: OEM
Date: 2014-10-09
Love the covers best investment I haver made on the cosmetic and functional improvement of my trick. They fit like a glove. Color matched my interior. Easy to put on. Excellent product.
Review by Linda Baugher from Honey Brook, PA:
Vehicle: 2014 Chevy Equinox
Product: OEM
Date: 2014-10-01
This is the fourth vehicle that I have purchased OEM covers for. You can't even tell that there are covers on my seat they look that good and they that well. Recently removed a set of seat covers that had been on for 10+ years. Not only did the seat covers still look great the original upholstery looked like the day we covered it! Great product!!
Review by Edward Klug from Iselin, NJ:
Vehicle: 2014 Jeep Grand Cherokee
Product: OEM
Date: 2014-09-21
good looking fairly easy to installthe seating is cool and not to warm on hot days
Review by Christie Wheaton from Grand Forks, BC:
Vehicle: 2013 Dodge Journey
Product: OEM
Date: 2014-09-19
They came with several extra strings that needed to be trimmed and head rest did not fit properly BADLY SEWN. I would not recommend them!!
Review by Joe Ardagna from WAKEFIELD, MA:
Vehicle: 2011 Ford F450/550
Product: OEM
Date: 2014-09-05
Comment
Review by Angela Holding from Selwyn, ON:
Vehicle: 2005 Nissan Frontier
Product: OEM
Date: 2014-08-30
Driver seat back cover does not allow access to seat back pouch. easy to do at little cost to you. Frontier truck.
Review by Lon Mears from Port Charolotte, FL:
Vehicle: 1999 Ford F150 -
Product: OEM
Date: 2014-08-22
They look like they are the original seating material after installation. This is the fourth set I have order for 4 different cars and trucks the past 8 years. The one set 8 years old is still fine even after several washings.
Review by Glen Saunders from Conception Bay South, NL:
Vehicle: 2014 Ford F150
Product: OEM
Date: 2014-08-12
Rear seat covers for a 2014 F150 crew cab had a great fit and easy install with the help of youtube. Finding how to release the back of the seats to fold forward for install was not included in the instructions. If you need to install child seats you might have an issue I noticed that there is no access for the factory seat restraints.
Review by Mark Negley from Arcadia, FL:
Vehicle: 2014 Commercial National Seating
Product: OEM
Date: 2014-08-04
2nd time I have ordered seat covers from ShearComfort and both times have been very pleased with quality fit and price.