Mesh Seat Covers
4.6 / 5 Rating (

194

Reviews)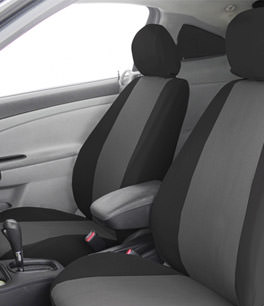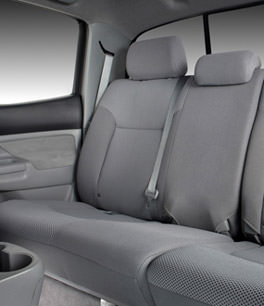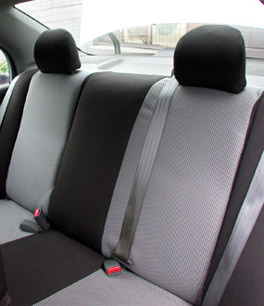 Durability
Comfort
Fit
Protection
Custom Fit to Your Seat
Start Here
About Fabric: Fine mesh side panels, with a regular mesh insert. UV protected.
Choose from Mesh colors
Tan

Gray

Black

Black w/ Tan

Black w/ Gray
Super Mesh Seat Covers are Custom made in the USA. They allow for airflow, which provides a ventilated seat to offer maximum comfort year round.
A mesh seat is warm in winter, cool in summer. Super Mesh seat covers use breathable fabric, providing Comfort, Style and Protection for years!

Air flows through
Great looking style
Custom Made in USA
Request Free
Fabric Samples
Super Mesh Seat Covers - More Information
Mesh seat covers are made from a custom designed, upholstery grade and UV protected fabric. It offers long lasting good looks and maximum protection for your seats. These seat covers are available in all Custom sizes, including Chevy, GMC, Ford, Toyota, Mazda, and Dodge Pickups.
Customer Reviews for Mesh Seat Covers
Review by
Leslie Vosburgh
from Fort Walton Beach, FL:
Review by Phillip Frost from platte city, MO:
Vehicle: 2001 Mazda Miata
Product: Mesh
Date: 2014-10-30
Look great fit well Installation would have been easier if I could have removed seats. Not certain that velcro fastening for back rest covers is the best solution.
Review by JOHN HAYES from BROUSSARD, LA:
Vehicle: 2014 Toyota Camry
Product: Mesh
Date: 2014-10-25
Unfortunately I had to pay extra for head rest covers which I did not need. Also fabric colors are too limited.
Review by Bradley White from Courtenay, British Columbia:
Vehicle: 2004 GMC Sierra
Product: Mesh
Date: 2014-10-14
Very good fit quality materials. For a fold-up armrest seat it's the only way to go.
Review by Daniel Arthurs from Medicine Hat, Alberta:
Vehicle: 2013 Ford F150
Product: Mesh
Date: 2014-10-08
Quick delivery. Easy to put on and form fitted. Best fitting seat cover I've ever gotten. For the price it had better. Look great comfortable and works fine with AC / heated seats. Haven't had them long enough to comment on durability but they seem well made.
Review by Edward Sicher from Fort Lauderdale, FL:
Vehicle: 2013 Volkswagen Passat
Product: Mesh
Date: 2014-10-03
The seat covers arrived after a short delay but fit perfectly wear well and look great. They were exactly what we were looking for.
Review by Carlos Gutierrez from LULING, LA:
Vehicle: 1999 Chevy Tahoe
Product: Mesh
Date: 2014-09-19
Love the covers it took me 30 minutes to install they look good feels good fit like a glove they don't slide
Review by Joseph Denholm from Akron, OH:
Vehicle: 2014 Toyota Corolla
Product: Mesh
Date: 2014-07-28
The instructions were confusing. I really needed pictures to go with the script. I installed them but not correctly. The quality is very good though.
Review by Roy Burkett from Rio Rancho, NM:
Vehicle: 2013 Toyota RAV4
Product: Mesh
Date: 2014-08-01
Looks great fits great. Easy to install. My wife loves them. Thank you
Review by Mark Brosseau from Spruce Grove, AB:
Vehicle: 2005 Pontiac Montana SV6
Product: Mesh
Date: 2014-07-19
We appreciated that the covers fit very well and have now ordered some for our car.