Mesh Seat Covers
4.6 / 5 Rating (

206

Reviews)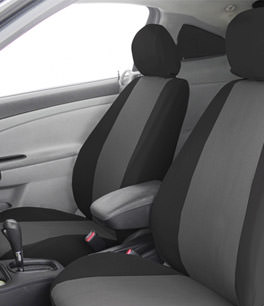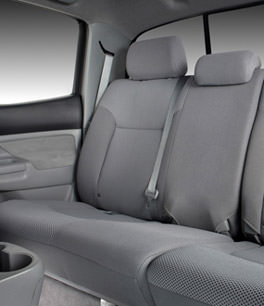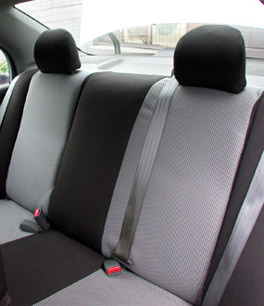 Durability
Comfort
Fit
Protection
Custom Fit to Your Seat
Start Here
About Fabric: Fine mesh side panels, with a regular mesh insert. UV protected.
Choose from Mesh colors
Tan

Gray

Black

Black w/ Tan

Black w/ Gray
Super Mesh Seat Covers are Custom made in the USA. They allow for airflow, which provides a ventilated seat to offer maximum comfort year round.
A mesh seat is warm in winter, cool in summer. Super Mesh seat covers use breathable fabric, providing Comfort, Style and Protection for years!

Air flows through
Great looking style
Custom Made in USA
Request Free
Fabric Samples
Super Mesh Seat Covers - More Information
Mesh seat covers are made from a custom designed, upholstery grade and UV protected fabric. It offers long lasting good looks and maximum protection for your seats. These seat covers are available in all Custom sizes, including Chevy, GMC, Ford, Toyota, Mazda, and Dodge Pickups.
Customer Reviews for Mesh Seat Covers
Review by
Richrd P
from Chambersburg, PA:
Vehicle: 2014 Chevy Silverado
Review by Dominic D from Boca Raton, FL:
Vehicle: 2014 Nissan Pathfinder
Product: Mesh
Date: 2015-01-23
They have a excellent fit. The only problem is that whoever makes them didn't pay attention to all the details of the order.
Review by Melanie D from Molino, FL:
Vehicle: 2007 Ford Expedition
Product: Mesh
Date: 2015-01-18
Very pleased with the feel and fit of the fabric mesh covers. Looking forward to purchasing seat covers for the middle row seats! Thank you for great service!
Review by Wendy S from Ohsweken, ON:
Vehicle: 2014 Ford F150
Product: Mesh
Date: 2015-01-14
Can't only use the bottom cover due to DVDs in headrest. Was a waste of money
Review by Gary from Folsom, CA:
Vehicle: 2001 Mazda Miata
Product: Mesh
Date: 2014-12-12
This went on a 2001 Mazda Miata. The covers are nicely made though I wonder how durable the mesh in the center section is. I had to get an exchange for one cover as it came with a slight tear. Customer service is very prompt. The tan is more of a taupe and just doesn't quite look right with the rest of the interior. It is contrasting if that's what you want. They look like the seats have covers on them. Some other reviewers posted that the covers looked like originals I don't think so. The fit is good and time will tell if it remains that way. First time buying covers and think that next time I will save up and reupholster the seats.myself For this car it seems like a doable project. Overall I think they are well made and serve it's purpose. I was hoping for more but that was too high an expectation.
Review by Ronald S from Stroudsburg, PA:
Vehicle: 2005 Subaru Outback
Product: Mesh
Date: 2014-12-10
I do feel the seat covers are very goodbut the add ons should be included at no additional cost as was stated on invoice but not included. I do like the seat covers they are very comfortable and do not move the heated seats are unaffected. I do feel they are over priced.
Review by Steve P from Saint Charles, IL:
Vehicle: 1998 Chrysler Town And Country
Product: Mesh
Date: 2014-12-03
These seat covers do not stay tucked in on the sides at all. The little hooks that came with it are useless. We ordered it for a CHrysler Town & Country and the package said Toyota T& C so not sure if it was mislabeled or the wrong covers....
Review by Eric from North Vancouver, BC:
Vehicle: 2008 Ford F150 Crew Cab
Product: Mesh
Date: 2014-11-26
The covers fit very well and look great my only concern is that the Velcro for the seat back portion of the covers will not stay together this one area needs to be better thought out.
Review by RICHARD B from Oak Island, NC:
Vehicle: 2000 Buick Century
Product: Mesh
Date: 2014-11-24
New front seat covers for my 2000 Buick Century are excellent. I had an issue with the fit of one of the seat bottoms and customer service paid for it to be returned altered and sent back very quickly and the altered cover fit perfectly. Great value and excellent customer service. Highly recommend this company and their seat covers.
Review by Jason M from Delray Beach, FL:
Vehicle: 2012 Jeep Liberty
Product: Mesh
Date: 2014-11-19
greaat seatcovers! But one of the headrestcovers was not stitched all the way around the elastic.