So now that you know why you are buying seat covers – the next step is to determine what material or fabric to choose. This is important and really depends on what you use your vehicle for. Keep functionality in mind to get the right car seat covers you need and want for your vehicle. While researching, you will come across Neoprene fabrics, CORDURA®, Sheepskin and Camo — just to name a few.
While it's not possible to cover every car fabric out there, this guide will touch on the most popular materials you'll find online.
Four Aspects of Car Seat Cover Fabrics
Versatility, Protection, Comfort, and Personalization
So, what's out there in terms of fabrics Seat covers for cars? This information is meant to help you conduct your online research with more knowledge and a better understanding of the main types of automotive fabric that are used to make seat covers. This way, you can make the correct decision on what is best for your needs and vehicle usage. The best way to think about it is that each fabric offers a different level of Versatility, Protection, Comfort, and Personalization.
Let's dive right in!
Versatility – Neoprene Fabric and NeoSupreme
What Is Neoprene?
Lots of customers ask us, what is Neoprene fabric? Neoprene is what wetsuits are made of. This versatile fabric is great for active sports-minded people. The material is breathable due to the knit-fabric finish but has an inner rubber core that gives it waterproofing qualities. Neoprene is stretchy, which allows it to mold to the contours of your seat with a snug, non-slip fit. Neoprene is one of the best fitting and looking seat covers for cars. Neoprene adds an extra cushioning layer of comfort due to its thickness and also doesn't get hot or cold like leather or vinyl. Neoprene comes in solid colors to match or enhance your interior and two-tone colors that can add a sporty look. Due to its versatility and many benefits, Neoprene has become one of the most popular car seat cover choices.
What is the difference between Neoprene and NeoSupreme?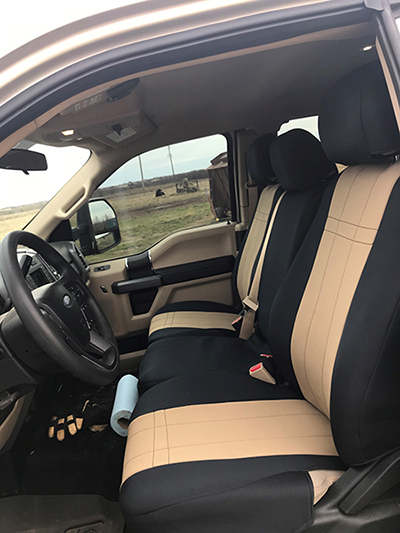 NeoSupreme is the younger cousin of Neoprene. NeoSupreme was developed specifically for use in seat covers. The look, feel, and comfort are almost identical. Instead of having a rubberized center core, NeoSupreme has a composite high-density foam. Due to this, NeoSupreme is not 100% waterproof. And although it is water resistant, NeoSupreme will eventually absorb moisture. This can happen after prolonged exposure or when pressure is added, like sitting on them with a wet bathing suit. NeoSupreme is less expensive than Neoprene and is a great choice for those who don't need it to be100% waterproof. Lower cost and having most of the same properties as Neoprene, makes NeoSupreme one of the more popular car seat cover choices. Both fabrics are automotive grade and stand up well for light-to-medium, everyday use.
Protection - CORDURA® Custom Seat Covers
Do You Actually Need This Level of Protection?
Cordura fabric is 100% waterproof and virtually ballistic-style, making it protective against wear and tear. Cordur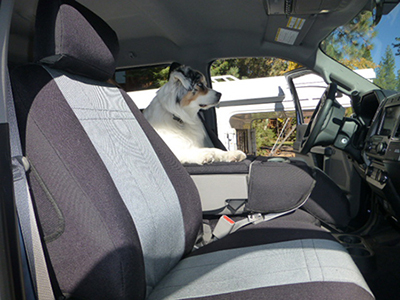 a fabric will stand up to anything you can throw at it. Kids, dogs, construction and heavy duty industry to name a few. Due to the industrial nature of Cordura, the fabric is stiffer (has no stretch) and has a rougher feel than other soft fabric seat covers. Think of a backpack or suitcase fabric. They are made to take a beating and offer maximum protection, but they will not be as comfortable as other seat covers to sit on. If you need car back seat covers because you have a dog, or you use your vehicle for work, Cordura is a great choice. They will likely last for the life of your vehicle. Cordura seat cover fabric is also easy to maintain as it can be wiped down in place with a damp cloth. No need to remove for cleaning! Due to the nature of the Cordura material not having stretch, you may see a few wrinkles and it will take longer for the seat cover to mold into your seats. If protection from Heavy-duty use is your main priority, then Cordura is the best car seat covers set for you. ShearComfort Waterproof Cordura seat covers are available in a 500 Denier weight, and a 1000 Denier Xtra Duty seat cover.
Comfort - Sheepskin Car Seat Covers
Why is Sheepskin fabric the best for long drives, sore backs, and isulation from the elements?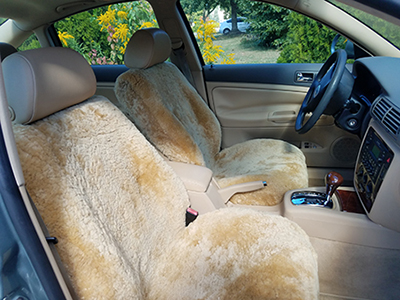 Let us not forget the importance of Pure Comfort. One of the most comfortable, not to mention luxurious, car seat cover materials out there is Sheepskin. It is important to know that there are also different grades of sheepskin out there. There is a BIG difference when buying Genuine Merino Sheepskin and Imitation Sheepskin. Not only will it look and feel different, but Imitation also will not offer the same benefits as Real Genuine Sheepskin. 100% Sheepskin fabric is high wearing, longer lasting, softer feeling, more supportive, and with its leather-hide backing it offers 100% protection for the seats underneath. Genuine Sheepskin will support you on the dense fibers, reducing your pressure points on long drives. This also offers an "air space" between you and your seat which Insulates you from the heat of summer, and the cold of winter. As soon as you sit on your seats you will be comfortable all year round. Anyone who has leather or vinyl seats knows what it's like to come back to your car on a hot summer day!
There are many companies out there that sell Sheepskin car seat covers but beware, they are not all the same. At ShearComfort we sell authentic New Zealand and Australian Merino Sheepskin in Universal, Semi-Custom (ready-made), and Tailor made-to-order styles. You get to choose the fit and look that you want, and all are made with the same high-quality sheepskin. There are quite a few choices in color too, which is nice to help complement your interior.
Imitation Leather for Car Seats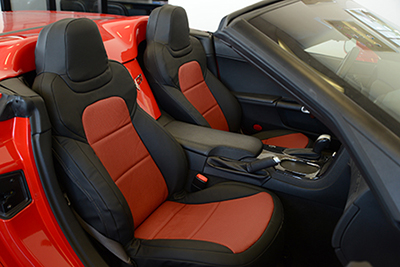 If you want to upgrade your vehicle to a higher trim / sub model look, there is no better way than to put Imitation Leather seat covers over your cloth seats. Your interior will be upgraded to a beautiful new high-end level. Our basic Imitation Leather seat covers will give you that "real-leather look" at a fraction the price of a dealer OEM upgrade. Imitation Leather custom seat covers slip over your original seats with a glove-like fit, making a second skin on your seats. These are the best car seat covers to instantly transform your interior. Imitation leather can be Perforated or Diamond Quilted to add a unique aesthetic look. For an even more high-end Leather look and feel, check out our Sof-Touch Imitation Leather with solid or two-tone colors, or Exotic Seat Covers with options like Croc and Ostrich. Imitation leather seat covers will offer 100% protection of your original seats. They can be installed and left for the lifetime of your vehicle, leaving your seats as new as the day you put them on. If you have dogs that ride with you, no problem. Imitation leather car back seat covers will protect your seats from claws, dirt and pet hair. They can be vacuumed and wiped clean in place. Perfect for your furry friends! Although they are more expensive than cloth or other types of seat covers they are actually very good value due to the longevity and performance of the product. No one will know that it is not your original leather upholstery!
Once again, it is important to consider functionality when deciding. If you need more comfort and want something luxurious, Sheepskin is perfect for you. But if you're not interested in Sheepskin or maybe need something that is waterproof, Cordura fabric may be a good choice. Imitation Leather offers you high-end luxury and protection so it may be the way to go. Now that we've explained a few of these products, it should be clearer as to what type of material will be the best car seat covers to offer you Comfort, Luxury, and Protection.
Personalization - You Can Add a Touch of Your Personal Style with Camo Car Seat Covers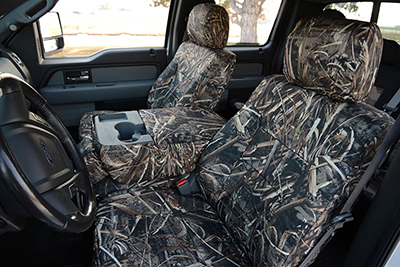 Camo covers for car seats come in so many prints and colors you will be able to find your personal style. The varieties range from RealTree Camo to Mossy Oak and the latest very popular, Kryptek Camo . Camo print custom car seat covers will add a bit of flair and personalize your vehicle's interior. Most Camo prints are done on a Cordura-style waterproof fabric that can be easily cleaned in place. This material adds extra protection from wear and tear plus the stunning and realistic camo prints that you love. Basic Kryptek Camo is made with NeoSupreme fabric, while our Luxury Line Kryptek is a Cordura-style fabric. These Camo seat covers are perfect for hunters, fishermen, campers, hikers, or anyone with an active lifestyle outdoors. You won't have to worry about getting a bit dirty and hopping into the car with Camo fabric protecting your seats. If you're looking for all around protection, but also want to personalize your vehicle, our Camo seat covers are a great option for you.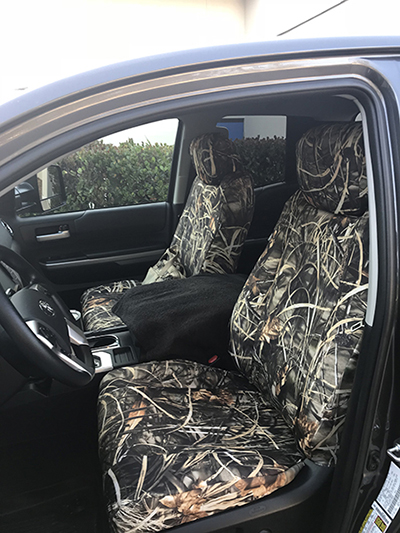 If you're buying ShearComfort car seat covers, personalization is always possible. We have the options, patterns, and colors that will help you to personalize your vehicle with a jaw-dropping, head-turning look, while offering all the benefits you need in custom car seat covers!
Our sales agents can help determine what type of seat covers will suit both your wants and needs. If you ever have any doubt, we're here to help.
A High-End Luxurious Option for Realtree Camo Lovers
ShearComfort is all about personalization. When you're shopping for Realtree Camo Seat Covers, we also suggest that you take a look at our Luxury Line. We have taken the Realtree Camo patterns you love and created something extremely luxurious. Using high end canvas material combined with serious attention to detail, our Luxury Line will give your car, truck or SUV that jaw-dropping, head-turning look -- all the while incorporating your love for Camo!
It is important to note that both lines of Realtree Camo Seat Covers are custom made, guaranteed to fit, and highly protective.
Why Opt for Canvas Camo Instead of Camo Neoprene Seat Covers?
There's something to be to said as to why many of our customers go for our canvas over the camo neoprene fabric available from others companies. Our Realtree Camo is an upholstery material for cars and trucks that is really made to last. The reason why we've opted to only sell canvas Realtree Camo seat covers is because in many cases, customers who are purchasing them tend to be outdoor adventurers.
While we cannot speak for everyone, we can say that there are a lot of hunters, hikers, campers, and just lovers of the outdoors who benefit from having the protection of this kind of high wearing seat cover fabric.
If you're looking for all around protection, but want to personalize your vehicle, our Realtree Camo seat covers are a great option for you. Our sales agents can help determine what type of seat covers will suit both your wants and needs. If you ever have any doubt, we're here to help. You may also fine our Seat Cover Center extremely useful in finding out what product is right for you.
Bottom Line: Don't Stress!
Like we said at the beginning of this section, there are a lot of types of fabrics for car seat covers out there. It can be hard not to get overwhelmed at times. By reading through some of these popular fabrics and their differences, you should have a better idea of what's available online.