'Ferrari, Italian Excellence that makes the world dream" -- TheFerrari Vision
Click To Tweet
Ferrari is 70 as of 2017! The Italian sports car maker continues to prove itself time and time again to not only produce astounding pieces of machinery, but to also stay true to the Prancing Horse DNA by incorporating past design features into newer Ferrari cars. The Ferrari name also stands the test of time by offering something new to replace previous models, much like the recent Ferrari California that is being replaced by the Portofino.
Best of Ferrari: The Mission That Creates These Amazing Ferrari Cars
"We build cars, symbols of Italian excellence the world over, and we do so to win on both road and track. Unique creations that fuel the Prancing Horse legend and generate a "World of Dreams and Emotions." — The Ferrari Mission
When designing cars, Ferrari's team is driven to not simply design a fast or luxurious sports car, but to live up to the legend of the Prancing Horse by creating only the most unique of automobiles. The Prancing Horse legend, the inspiration behind the black and yellow Ferrari logo, is a tale that Enzo Ferrari himself told — only once. The black horse was painted on a fighter plane of Francesco Baracca during World War I. Enzo met with the parents of the famous airplane fighter and the mother told him; "Ferrari, put my son's Prancing Horse on your cars. It will bring you good luck." And with that, the legend of the Prancing Horse has become synonymous with Ferrari cars and in hindsight, there's no denying the luck that black horse brought Enzo and the automaking company.
There's much more to the Ferrari mission though. For those interested, Ferrari tells it best.
With Ferrari at 70 years of production, the automaker has designed and created some pretty spectacular cars. Here you will find just a quick look at a few of the best Ferraris ever. While I'd like to cover every one of the best Ferrari models and variants of each, this is more of an overview. Happy reading!
Ferrari Enzo
Starting the list off with a bang, here's a supercar that is named after the founder himself and pushes the boundaries in almost every possible way a car could. The Ferrari Enzo embodies the company's mission and its engineers strive for producing only the most incredibly unique Ferrari cars.
'I wanted to go a little bit too far in every element to build a superextreme car."-- Luca di Montezemolo
Click To Tweet
Taking a peek under the hood of the fastest Ferrari, for its time, that is road legal, the car is equipped with a V12 engine with port fuel injectors and 6-speed manual transmission with both automatic shifting and clutch. When this car gets going, it boasts 655 HP and 485 lb-ft @ 5500 RPM of torque. Let's not forget the Ferrari Enzo top speed of 218 MPH (drag-limited) and 0 to 60 MPH time of 3.14 seconds.
There's more to this supercar than just awesome specs. With its 218 MPH top speed, one should only expect a solid braking system as well. The Ferrari's braking system is impressive in its own right. The car is equipped with the Brembo 14.9-inch Carbon-Ceramic Material system which back in 2002 was a brand new braking system. Even at speeds of around 200 MPH, the system was consistently able to brake during a series of tests on Ferrari's test track.
The Ferrari Enzo price tag, at its base cost, is $650k. But at a 2017 RM Sotheby's Auction a 2003 Ferrari Enzo previously owned by Tommy Hilfiger sold for just under $2.7 million.
Ferrari F40
The next best Ferrari on this list is the Ferrari F40. This car is still a trend-setter even 30 years after being released. It still reigns as one of the greatest cars Ferrari has ever designed with its entirely unique exterior.
While the exterior is the money maker for this gorgeous supercar, the car is also equipped with a twin-turbocharged V8 engine boasting 471 HP and maxing out at 201 MPH and goes from 0-60 MPH in 3.8 seconds.
The Ferrari F40 is also quite unique as it was the very last Ferrari car that Enzo would present to the world before his death that same year (1988). This could directly relate to the reason why they are so highly sought after and why in a 2015 auction, a red Ferrari F40 sold for $1.3 million.


Ferrari F430
We jump back to the twenty-first century with this gorgeous whip, the Ferrari F430, another one of the fastest Ferraris out there. As cars just kept getting faster, in 2004 Ferrari had to upgrade its Ferrari 360 in order to compete with the release of the Lamborghini Gallardo that seemed unstoppable.
This was the first Ferrari completely credited to Frank Stephenson, who is known not just In creating the F430 and F430 Spider Ferrari Convertible, but his design work with Alfa Romeo, McLaren, Fiat, and Mini.
The actual hardware in Stephenson's Ferrari is as follows: the engine is a 4.3 L V8 engine inspired by F1 engines of its time, paired with a manual or F1 transmission. To compete with the newly released Lambo, this Ferrari spits out 490 hp, hits a top speed of 196 MPH and jumps from 0-60 in 4.00 seconds.
One of the most notable features of the F430 is its large nostrils (metaphorically speaking of course). Stephenson strongly dislikes the word retro and while some may consider the car to look old school, his creative inspiration behind this car is more about incorporating genetic DNA from one generation of Ferrari to another. In this case, it is an old Ferrari from 1961, the 156, which features similar, front vents. That's just how important Ferrari and its designers care about preserving their legacy and the mission of the Prancing Horse.   
While in a recent auction, Donald Trump's F430 sold for just $200k, this should not reflect its true value and it still holds its place as one of the best Ferrari cars for its impressive construction and highly recognizable features. And to be fair, the previous owner may have had something to do with it.
Ferrari 488 GTB
The Ferrari 458 GTB is a more recent Ferrari model, first released in 2015.
Looking at the 2017 model of the Ferrari, we can see just how incredible this newer car is with its rear-mounted turbocharged 3.9 V8 engine that will send chills up your spine when you feel it rumble after turning on the ignition. You'll also find a 7-speed automatic transmission in this bad boy. The power outage is 661 HP and 561 lb·ft @ 3,000 RPM of torque, maxes out at 205 MPH and ramps from 0-60 MPH in oh you know, 3.0 seconds. The Ferrari 488 GTB price start at just over $300k.
The sports car company describes the Ferrari 488 GTB to have highly sculptured flanks as one of its defining characteristics and the designers included the large signature air intake scallop which is from the first 308 GTB. Just another instance where features transcend generations of cars in order to maintain the Ferrari mission.
Ferrari 250 GTO
It is likely that you have read about the Ferrari 250 GTO once or twice — if not more. It is after all, one the most expensive Ferraris in the world. This classic whip is accustomed to the limelight. It sold at auction for $38.1 million. So yes, it is pretty famous.
For the full scoop on this very expensive, old Ferrari, check out the full article on the most expensive Ferrari.


Ferrari Dino
This car holds a special place in Ferrari history. Named after Enzo Ferrari's son, nicknamed 'Dino' who passed away due to an illness called Duchenne Muscular Dystrophy. His son died in 1956 at the young age of 24. Alfred 'Dino' Ferrari was an automotive engineer for the sports car company at the time of his death.
The Ferrari Dino was a tribute to Enzo's late son and was the first Ferrari to be equipped with a V6 or V8 engine during the first eight years the Dino was produced. Therefore, the Italian automaker could sell the Dino at a lower cost. Those V12s ain't cheap! The engine that the Dino is equipped with is the engine that Ferrari's son was working on prior to his passing.
Pricing for the Dino varies dramatically as it has a wide range of units produced. Depending on the model, you can pay anywhere between $150k for the Dino 308 and more than $850k for the Ferrari Dino 206 GT.
Because of its smaller engine, the 206 GT version of the Dino boasts 160 HP and maxes out at 146 MPH. While this might not be the fastest Ferrari out there, its sentimental value is the reason for its popularity and reputation as being one of the best Ferraris money can buy. A lot of money, that is.


Ferrari F50
This one is unlike any Ferrari model around. It isn't the most expensive, it isn't the fastest or oldest Ferrari, but it is different because you can't actually own one — even if you had the cash. The reason for this is because Ferrari North America put a two year lease restriction on the 55 units of the Ferrari F50. So while you might pay $560k over the course of the two years, you'll have to give the car back, on what will be one of the saddest days of your life.
That being said, not just anyone can lease the F50, you have to be an elite Ferrari customer, making it even harder for anyone to ever experience driving the rare Ferrari with its 4.7-liter 60-valve Twin-Turbocharged V8 Engine with Chain-Driven Quad Camshafts and Dry-Sump Lubrication. Try saying that three times fast. So what can this engine spit out? The Ferrari F50 has 514 HP and 347 of torque @ 6,500 RPM all amounting to a top speed of 201 MPH and a 0-60 MPH sprint of 3.7 seconds.
So like I said, with a 201 MPH top speed, the Ferrari F50 is not the fastest Ferrari out there, but it holds its place on this list of best Ferraris for its reputation of being so hard to get your hands on even if they are filled with cash.
Ferrari F12Berlinetta
Another great Ferrari with the V12 engine that the sports car maker has become famous for using in its vehicles, the Ferrari F12Berlinetta. This car made its big debut in 2012 (as seen in the picture above) as the 599 GTB replacement.
The evolution of the F12berlinetta has led to the 2018 Ferrari F12 812 Superfast which looks mighty different than previous years, but still maintains the ferocity under the hood. The F12 is packed with power with a 6.5-liter V12 engine and F1 dual-clutch automatic transmission that work together to spew out 789 HP and 530 @ 7,000 of torque. Also comes with a top speed of 211 MPH and 0 to 60 MPH sprint at only 2.9 seconds, 2 seconds shorter than the original F12Berlinetta.
While it may have received a facelift, the power still remains. And of course, its roar. For those who have never heard the F12 loud engine, here's your chance. But I warn you, it may change you forever.



Ferrari FXX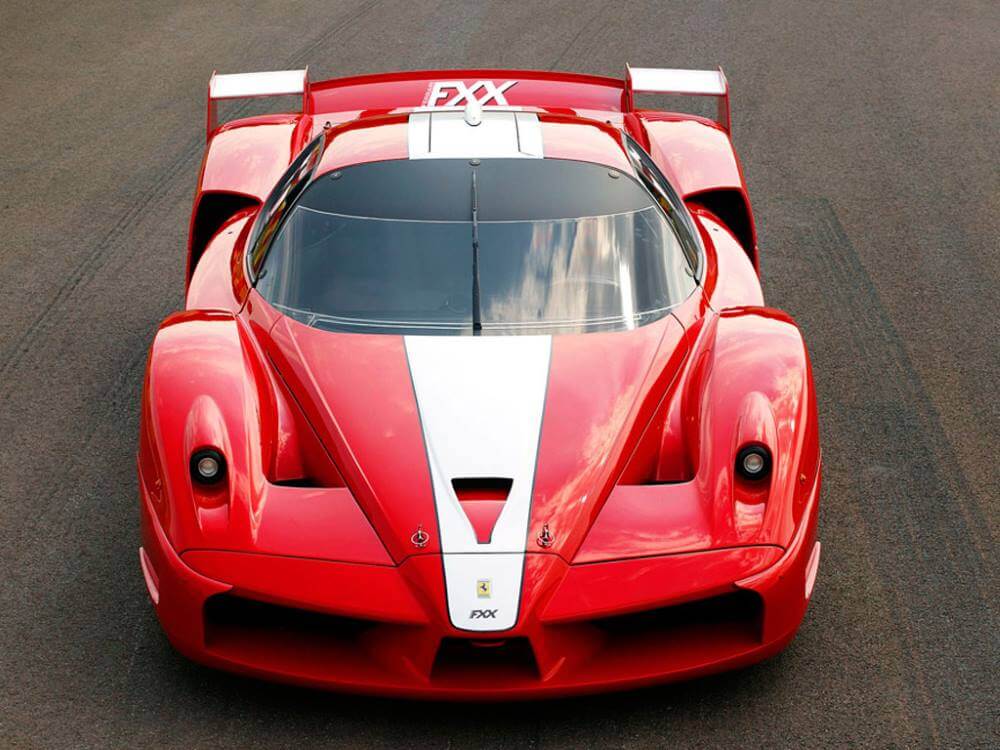 Next up on our Best of Ferrari list, the Ferrari FXX. This one is special because it is an extremely limited edition Ferrari model because of its innovative aerodynamics that reduce the car's downforce by 40%. But to top it all off, it gains its notoriety, from the very special, advanced client driver testing programme Ferrari implemented for it's A-list customers that are most passionate and dedicated to the Ferrari brand.
The Team Ferrari programme utilizes the feedback from these highly esteemed clients who test drive the Ferrari FXX on the track while being monitored by the company. Pretty cool right? Well, for these clients who joined the team and got a once in a lifetime opportunity, they paid through the nose. Each FXX costs just under $1.88 million.
Of course, Ferrari wouldn't want to disappoint its greatest customers and equipped the 2-door coupe with a V12 engine capable of 800 HP and hits a smoking top speed of 217 MPH. And with a 2.8 second 0-60 MPH time, there's no way clients were disappointed when they test drove the FXX.
Ferrari LaFerrari
This ain't your average supercar. But rather a hybrid hypercar that first showed its face to the world at the 2013 Geneva Auto Show and started out of the gates running.
The Ferrari LaFerrari is valued at $1.5 million. Only 499 units were produced, but all were spoken for before the hybrid hypercar even became available. Floyd Mayweather owns two of them, by the way. Read about the LaFerrari specs and a handful more hypercars in another one of our posts: Fastest Cars in the World.
Some love their Ferrari LaFerrari so much that they do this:
Holy crap, this guy parks a #LaFerrari in his living room https://t.co/okPzAtPb3i pic.twitter.com/iN7T0UbFIy

— Car Waffle (@CarWaffle) January 9, 2016
Ferrari 458 Italia
Here we come to the last on our list of the best Ferrari cars. The Ferrari 458 Italia made quite an impression when it was first unveiled in 2010 as the replacement to the previously mentioned Ferrari F430. A 'Speciale' redesign is also available. Credit is given to Pininfarina for designing this Ferrari car.
So let's get down to the business of the specs, one last time. The first generation of 458 is equipped with a 4.5-liter V8 engine and 7-speed automatic transmission . The coupe sports car, while it does not have the V12, still has quite the bite with a 562 HP output. Also, the  Ferrari 458 top speed is 201 MPH and 0-60 MPH time is 3.4 seconds. At the 2017 Mecum Auction, a first gen Italia sold for $230k. Meanwhile the same gen of Italia but "Speciale" sold for over $600k.
Ferrari never ceases to amaze us. We commend Ferrari for 70 years of creating and producing excellent automobiles. While this list could not have every single one of the greatest Ferrari cars, we hope you enjoyed our Best of Ferrari tribute!