Protecting what is precious to us is part of our human instinct. Protecting the interior of your Ford truck is no different. Whether you use your Ford F-150, F-250, or F-350 for work, casual everyday driving, or off-road adventures, we have various types of seat covers available. Each type of seat cover has features catering to different needs and levels of protection for your Ford truck interior. This guide is here to help you figure what will work best for you based on our most popular seat covers for Ford trucks.
Our top sellers are:
3. Atomic Pro-Tect Seat Covers
1. Neo-Supreme Seat Covers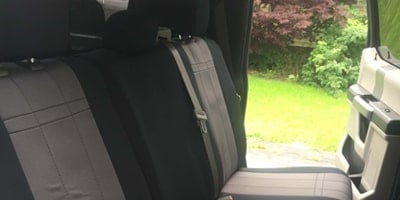 Photo Credit: David B.
Ideal for passengers and daily commuting, these automotive grade Neo-Supreme seat covers offer an unrivaled balance of comfort, protection, and style. The material is water resistant, UV protected, and budget-friendly.
Neo-Supreme will undoubtedly protect your Ford truck interior from regular day to day activities and errands. If your Ford truck is used as a family vehicle, Neo-Supreme covers are great for preventing spills and potential stains. There is also a very large selection of color and two-tone combinations to choose from. One of the most popular color combinations is the Neo-Supreme Black with Charcoal inserts. It will provide your Ford truck interior with a classic and timeless look.
2. CORDURA® Seat Covers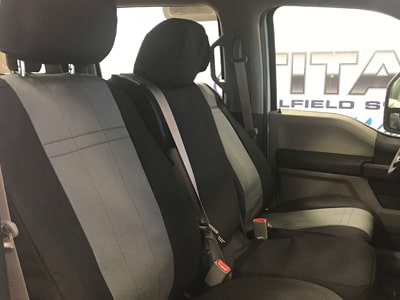 Photo Credit: Brian S.
Made with 500 Denier Genuine CORDURA®, these are one of the toughest truck accessories we have. This makes them a perfect match for the heavy-duty work that the Ford F-250 and F-350 are designed to handle.
The main purpose of CORDURA® Seat Covers is maximum protection, so whether you are using your Ford to transport industrial appliances or your large dog, this fabric will resist heavier damage and stop tears or stains from happening. The waterproof, high-wearing, and abrasion resistant design makes this product the closest you can get to a true work truck seat cover.
Everybody has their own style of working and selecting your personal style of automotive-grade products should be no different. The top selling colors for Ford truck owners are Solid Black and Gray, Black with Tan Inserts, and Black with Gray Inserts.
3. Atomic Pro-Tect Seat Covers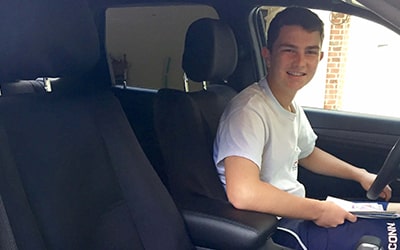 Photo Credit: Heather D.
These aesthetically pleasing and durable seat covers are made from polyester, with polyurethane waterproof coatings. This fabric is very well rounded, as it is designed for a truck interior that will get a lot of wear and tear -- every day, all day long.
Whether you are a pet owner, work in construction, landscaping, or other similar industries, the interior of your Ford truck may take a lot of abuse from various objects. Atomic Pro-Tect Seat Covers are a great option for these undertakings. Additionally, they have excellent value, are machine washable, and will prevent fading caused by UV light. The Atomic Black with Gray inserts will keep your Ford truck interior and its upholstery looking extremely classy while getting the job done.
4. Pro-Tect Vinyl Seat Covers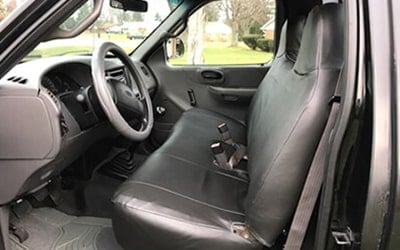 Photo Credit: Steven G.
Vinyl is known for its durability and easy installation. This product is made from high wearing automotive grade vinyl, and certainly does not disappoint! These are the most protective Vinyl Seat Covers available and are excellent for heavy industrial use. Ford trucks have incredible towing capabilities.
This fabric is great for protecting against damage that may result from storing towing equipment. They are very easy to wipe down with a damp cloth, making it extremely convenient for removing any marks. Black is the most popular vinyl color for Ford trucks, as it is always a great option for keeping the interior looking neat and modern while completing work related tasks.
5. Realtree Camo Seat Covers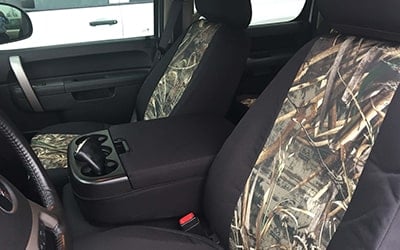 Photo Credit: Keith E.
Intricately detailed camouflage patterns and incredible durability, Realtree Camo Seat Covers are made from 600 Denier polyester/nylon blend fabric. The tough fabric is perfect for storing any of your hunting gear and will protect your Ford truck against anything you may catch on your hunting trip.
This material is waterproof, easy to wipe down and clean, and is also machine-washable for those times you may catch a bit too much! Even if you are not a hunter and just love camo, there is a large selection of patterns available, with the AP and MAX-5 patterns being at the top of the list. These seat covers are also excellent for landscaping work, or outdoor activities, such as mountain biking, snowboarding, and skiing.
6. OEM Seat Covers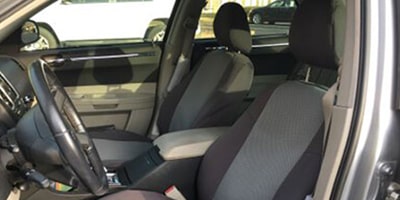 Photo Credit: Scott B.
The heavyweight OEM cloth looks much like the original upholster found in many trucks. This design is great for the minimalist and those looking for ultimate convenience.
OEM seat covers are both easy to install and easy to remove for cleaning. Gray OEM is very popular with Ford truck owners, as it provides a simple clean look while adding a solid protective second skin that is also great for industrial use.
At The End of The Day: There's Something for Every Ford Truck Interior!
Your Ford F150, F250, or F350 is as exceptionally tough as it is versatile. Due to the fact that Ford trucks are great for all kinds of environments, and uses range from heavy outdoor work to casual driving, it is important to have a general idea of what your main purposes include.
In this way, you can confidently decide what seat covers are the most suitable for protecting your Ford truck interior from your daily life and activities.