Velour Seat Covers
4.6 / 5 Rating (

197

Reviews)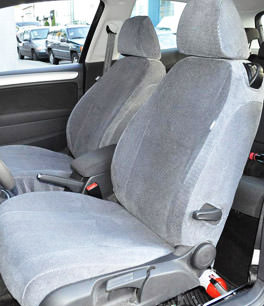 Durability
Comfort
Fit
Protection
Custom Fit to Your Seat
Start Here
Made in the USA from heavy weight auto upholstery material with laminated foam backing. Looks like your original seat.
| Madrid | Scottsdale | Encore |
| --- | --- | --- |
| Charcoal Madrid | Charcoal Scottsdale | Charcoal Encore |
| Black w/ Silver Madrid | Black Scottsdale | Black Encore |
| Silver Madrid | Silver Scottsdale | Silver Encore |
| Toast Madrid | Toast Scottsdale | Toast Encore |
| Sandstone Madrid | Sandstone Scottsdale | Sandstone Encore |
| Blue Madrid | Blue Scottsdale | Blue Encore |
Custom Velour seat covers are made from specific patterns for your vehicle.

Exact fit, custom made
Heavyweight Laminated Fabric
Looks like original seat
Request Free
Fabric Samples
Velour Seat Covers will give your vehicle's cloth seats that "new upholstery look" while protecting your original cloth seat. Available in custom sizes for most cars, trucks, and vans.
---
Washing your Jeep Liberty Original Look car seat covers
Original Look Car Seat Covers are hand or machine washable, on a gentle cycle in cold water. Remove all hooks when washing. Hang to dry(no dryer).

Note: For extra protection and ease of cleaning, a fabric protector can be put on seat covers. Always allow car seat covers to be fully dry before installing. Professional cleaning is recommended.
---
Customer Reviews for Velour Seat Covers
Review by
Mary E
from Matawan, NJ:
Vehicle: 2006 Toyota Highlander
Review by Bernadette M from Block Island, RI:
Vehicle: 2005 Nissan Titan
Product: Velour
Date: 2015-01-31
Love the seat covers. They look great. Better than when my truck was new. My husband was even pleased with the quality. They were also very easy to put on. Highly recommended.
Review by Jerri L from San Anselmo, CA:
Vehicle: 2001 Subaru Outback
Product: Velour
Date: 2015-01-21
They were difficult to fot on without wrinkles and extra fabric on the front of the seat part. There are also two loops on the sides pf the seat part that can't be attached because of the way my seats are configured. Too much plastic and the seat sliding mechanism in the way to attach the loops under the seat. In the end they look good but I didn't feel like they were designed for my car model and year.
Review by Ken B from WELLSTON, OH:
Vehicle: 2006 Ford Mustang
Product: Velour
Date: 2015-01-20
Perfect fit comfortable blocks the cold and hot feeling that leather gives.
Review by Frank F from Hamilton, Ontario:
Vehicle: 2013 Dodge Dart
Product: Velour
Date: 2015-01-08
I really like your product. I think it is very well made and the fit is perfect. I would definitely recommend them to family and friends. I will be ordering the rear velour seat covers within the next couple of months.
Review by K L from FRAZIER PARK, CA:
Vehicle: 2015 Subaru Forester
Product: Velour
Date: 2014-12-30
The seat covers for my 2015 Subaru Forester are perfect. I love the soft velour and the fit is right on. This is my second purchase from Shear Comfort and I am very satisfied.
Review by Al R from Marietta, GA:
Vehicle: 2014 Toyota RAV4
Product: Velour
Date: 2014-12-19
Great product. Perfectly manufactured to fit our new Toyota RAV4. I highly recommend their product to everyone. Very satisfied.
Review by David N from Mission Viejo, CA:
Vehicle: 2015 Hyundai Santa Fe
Product: Velour
Date: 2014-12-10
I have purcahsed 4 or 5 sets of Velour seat covers from Shear Comfort over the last several years. The previous purchases were an excellent fit and based on that I have recommended Shear Comfort to others. This last set for the 2015 Hyundai Limited however do not meet my expectations. The front covers especially are constantly moving and will not maintain the installed position. I have installed all of my seat covers in accordance with Shear Comfort's directions and videos and have always had excellent success until now.
Review by Allan M from Bradford, ON:
Vehicle: 2014 Jeep Wrangler
Product: Velour
Date: 2014-11-20
I Recommend this company very vast choice of covers available
Review by Sue D from OAK PARK HEIGHTS, MN:
Vehicle: 2014 Chrysler Town And Country
Product: Velour
Date: 2014-11-13
Customer & Service Dept thought they looked awesome and the fit was fantastic-I'll be looking to you in the future for ALL of my seat cover needs!! Thanks folks - great job!!!