Sheepskin Seat Covers
4.7 / 5 Rating (

560

Reviews)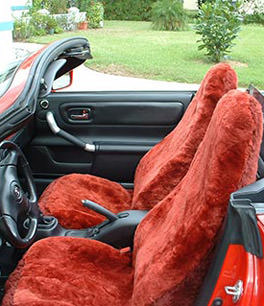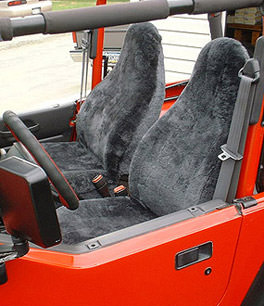 Durability
Comfort
Fit
Protection
Seat Airbags are airbags that deploy through the side of your seat.
Many new vehicles have the option of having side impact air bags in the driver and passenger front seats. This is a safety device on the vehicle.
Our seat covers are made Seat Airbag compatible to allow for airbag deployment.
How do I know if I have Airbags in Seat?
Seats with Airbags are marked with a small tag that will say "Airbag" or "SIAB". This can also be embossed on the side panel of the backrest or with a warning sticker on the inside of the door frame.
Custom Fit to Your Seat
Start Here

We use the finest Australian Merino wool for your custom fit sheepskin seat cover.
Available Colors

Charcoal

Medium Gray

Black

Tan

Camel

Pearl

Silver

Dark Silver

Mushroom

Brown

Blue

Burgundy
Merino is known for having the densest wool fiber, which makes for an excellent sheepskin seat. Denser wool does not "pack down" and is a better choice for sheepskin seat covers for cars. With proper care and maintenance, your seat cover will keep its original appearance even after years of use.
Machine Washable
Maximum Comfort
Lasting Good looks
Best Quality, Lowest Price
Request Free
Fabric Samples
Sheepskin Seat Styles - Which style do you prefer?
Universal
• Made with Real and
Imitation Sheepskin
• Universal Fit
• In-stock
• Covers back of seat
$279.00
from $237.15
per pair
Custom
• 100% Real Sheepskin
• Custom sizes to fit your
vehicle
• In-stock
• Map pockets accessible
• Great value
$375.00
from $318.75
per pair
Tailor-Made
• Made with Real and
Imitation Sheepskin
• Exact Fit
• Covers back of seat

$585.00
from $497.25
per pair
---
Comfortable Seats
Sheepskin is a natural insulator - your seat will feel warm in the winter, cool in the summer. Sheepskin allows the air to flow between you and your seat, creating a natural insulation effect that will keep you at a comfortable temperature all year round. Sitting on fleece supports the body and reduces pressure points, allowing for maximum comfort even on long drives.
Durable Sheepskin Car Seat Covers with Protection
Each Jeep Liberty sheepskin seat cover has a leather hide with one-inch fleece. This creates a protective layer over your seats which will stop all dust, dirt and spills. These seat covers are very durable and have been known to last up to 15 years on the same vehicle.
Sheepskin - More Information:

Seat Maintenance:
Vacuum your seats regularly to get rid of dust and dirt. A wide tooth comb or wire brush will maintain the condition and look of your fleece seat. For regular bucket seats, rotate the driver and passenger seat covers to insure even wear and longevity. With proper care, your car sheepskin will maintain its attractive look and continue to serve you well for years to come.

Cleaning your fleece seat:
Wool fleece is a natural fiber that resists soiling, which simplifies cleaning. In most cases, spot cleaning with warm water and mild soap is all that's necessary. Remove your seat cover occasionally to shake it out - this also removes loose dirt and restores the sheepskin fleece to its original condition. Remember that your seat cover is a fine woolen product and needs to be treated as such. Harsh washing or drying can cause permanent damage. Dry cleaning is recommended. If the seat cover is soiled, you can wash it yourself without causing damage by following these instructions:
Hand wash in cool to lukewarm water, using a mild soap designed for sheepskin.
Rinse thoroughly with cool water and gently remove excess water.
Do not put in dryer. Dry naturally without using direct heat. Stretch during drying to prevent shrinkage.
Once it's dry, brush up fleece with a coarse pet brush to restore it.
Brush and vacuum at least once a month.
If you are not comfortable cleaning the seat covers yourself, find a dry cleaner that specializes in cleaning leather. With proper care, your seatcovers will maintain their original appearance and serve you well for many years.

Seat Covers with Airbags:
Shear Comfort seat covers can be altered to accommodate side airbags in the vehicle seat.
Warranty:
All Shear Comfort seat covers have a 1-year warranty against any defects in workmanship and materials. Additionally, Shear Comfort will guarantee the fit of all products whether universal or custom. Note: No returns for warranty or otherwise will be accepted without an RGA (Return Goods Authorization) number. See Return Policy.
Customer Reviews for Sheepskin Seat Covers
Review by
Sidney W
from Palo Alto, CA:
Vehicle: 2014 Toyota Prius V Wagon
Review by Linda K from Simi Valley, CA:
Vehicle: 2014 Toyota Avalon
Product: Sheepskin
Date: 2015-01-25
Very pleased. Fit is great and they arrived just as described. Paid to have them installed and it appears it is somewhat difficult so I have happy I had them installed.
Review by John W from Glen Ellyn, IL:
Vehicle: 2002 Toyota Camry
Product: Sheepskin
Date: 2015-01-25
They were not too hard to install and are much warmer that the leather seats they cover.
Review by Lance W from Maumee, OH:
Vehicle: 1990 Mercedes 190
Product: Sheepskin
Date: 2015-01-22
The installation tool was a huge help. The color was a perfect compliment to the interior and the painted color.
Review by Joseph P from trabuco canyon, CA:
Vehicle: 2009 Volvo S80
Product: Sheepskin
Date: 2015-01-22
Made my wife very happy She didn't expect this really great gift from you guys thanks again for your great product
Review by Cathy G from Victoria, BC:
Vehicle: 2012 Nissan Xterra
Product: Sheepskin
Date: 2015-01-21
The Sheepskin seat covers are perfect. I was so happy when they arrived the colour was perfect and the quality was amazing. Thanks so much
Review by Christopher P from New York, NY:
Vehicle: 2015 Toyota 4Runner
Product: Sheepskin
Date: 2015-01-21
The fit of the custom made sheepskin covers is somewhat over rated. The side skirts on my front seat covers do not cover the entire lower seat side portion.
Review by William O from Lady Lake, FL:
Vehicle: 2005 Dodge Caravan / Grand Caravan
Product: Sheepskin
Date: 2015-01-21
I'm delighted. Seat covers arrived quickly fit right with no trouble installing them and are thick and comfortable. What more could anybody want?!
Review by Jules P from BRENTWOOD, CA:
Vehicle: 1997 Lexus LS
Product: Sheepskin
Date: 2015-01-15
I just LOVE my seat covers : They look and feel great!!!! I am now saving up money to purchase the back seat covers. Thank you!
Review by Sylvester T from Oklahoma city, OK:
Vehicle: 2001 Toyota Sequoia
Product: Sheepskin
Date: 2015-01-14
My wife really like your seat cover would highly recommend them.