Cordura Seat Covers
4.5 / 5 Rating (

512

Reviews)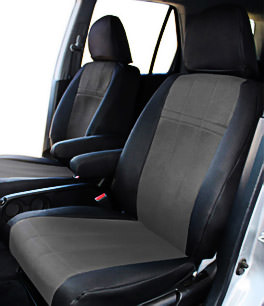 Durability
Comfort
Fit
Protection
Custom Fit to Your Seat
Start Here
About Fabric: Highly durable Cordura fabric with laminated backing offers rugged performance, with maximum protection.

Choose from popular colors
| | | |
| --- | --- | --- |
| Black | Gray | Tan |
| Blue | Burgundy | Black w/ Gray |
| Black w/ Tan | Black w/ Blue | Black w/ Burgundy |
Create your own Color Combination:

Long lasting, waterproof car seat
Washable & can be surface cleaned
Excellent for truck & industry use
Request Free
Fabric Samples
Cordura Custom waterproof seat cover is for those who value maximum protection. Excellent for construction, heavy industry use, or as a Pet Seat Cover. All Cordura waterproof car seat covers are Custom made for your vehicle.
Cordura Benefits
Cordura seat covers for maximum durability
Cordura is a high-performance fabric resistant to abrasions, tears, and scuffs
Cordura stands for durability
Cordura is:

2 x more durable than standard nylon
3 x more durable than polyester
10 x more durable than cotton duck
Customer Reviews for Cordura Seat Covers
Review by
AILEEN LIVINGSTON
from VOLUNTOWN, CT:
Vehicle: 2015 Subaru Outback
Review by Cynthia Adams from Christmas, FL:
Vehicle: 2015 Toyota Tacoma
Product: Cordura
Date: 2014-11-21
I wasn't as happy with the Tacoma seat covers as I was with the Sierra seat covers. The covers didn't fit as well.
Review by John B Lombardo from Auburn, NY:
Vehicle: 2015 Subaru Forester
Product: Cordura
Date: 2014-11-19
Perfect tight fit once I figured out how to put them on. Never know they are not original. Solid seat cover great for my Springer Spaniel. Comfortable too. Thanks for the customer support.
Review by Jerry Harris from Shadow Hills, CA:
Vehicle: 2014 Dodge Ram Pickup 2500-5500 HD
Product: Cordura
Date: 2014-11-16
Solid strong and very durable seat covers. Easy to clean put on and are staying in place. I wish I would have bought these covers first they would have been my last to buy.
Review by Neal Moysey from Manitouwadge, ON:
Vehicle: 2015 GMC Sierra
Product: Cordura
Date: 2014-11-14
- EXCELLENT FIT - DURABLE - LOTS OF STRAPS TO PREVENT MOVEMENT - EASY TO CLEAN
Review by Mike Hoke from Savannah, GA:
Vehicle: 2014 Dodge Ram Pickup 1500
Product: Cordura
Date: 2014-11-14
Fits and looks great on the seats only disappointment and that is slight is how it fits over the seat section of the console. Center seat section under console is not long enough to cover everything.
Review by John Delaney from Macomb, MI:
Vehicle: 2015 Ford F350
Product: Cordura
Date: 2014-11-05
did not like the fit of head rest covers fit still can't get the puckers out also think armrest cover would make a better set overall quality and service very good will by more in the future
Review by Robert Harper from huntsville, AL:
Vehicle: 1999 Ford F150 -
Product: Cordura
Date: 2014-11-05
Overall they fit well it took some effort to get them tight.
Review by Aaron Todd from Wilson, WY:
Vehicle: 2015 Ford F350
Product: Cordura
Date: 2014-11-05
Good covers made from high quality material. Use caution when installing they will tear easily along the edges when trying to stretch them over the seats. The headrest covers don't fit too well. Overall I'm happy.
Review by Lauren McDonald from Waterloo, IA:
Vehicle: 2012 Toyota RAV4
Product: Cordura
Date: 2014-11-05
Excellent choice for seat covers if you need something really sturdy and tough. The fabric is a bit stiff so it doesn't have a 100% perfect fit but the covers do it pretty nicely as close to perfect as they can get them. The fabric is super durable and can withstand my 2 crazy dogs. The covers did take a bit to put on Maybe 2 hours total but it was worth the effort to protect the seats. They look very nice and you can tell they were professionally made. The customer service I received was second to none! The company emailed me to ensure I knew exactly what I was ordering and they allowed me to change my order too. I wold definitely recommend Shear Comfort and these seat covers.