Cordura Seat Covers
4.5 / 5 Rating (

533

Reviews)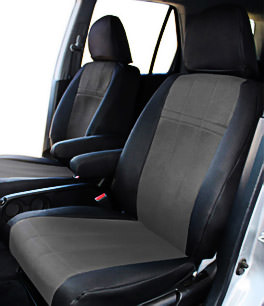 Durability
Comfort
Fit
Protection
Custom Fit to Your Seat
Start Here
About Fabric: Highly durable Cordura fabric with laminated backing offers rugged performance, with maximum protection.

Choose from popular colors
| | | |
| --- | --- | --- |
| Black | Gray | Tan |
| Blue | Burgundy | Black w/ Gray |
| Black w/ Tan | Black w/ Blue | Black w/ Burgundy |
Create your own Color Combination:

Long lasting, waterproof car seat
Washable & can be surface cleaned
Excellent for truck & industry use
Request Free
Fabric Samples
Cordura Custom waterproof seat cover is for those who value maximum protection. Excellent for construction, heavy industry use, or as a Pet Seat Cover. All Cordura waterproof car seat covers are Custom made for your vehicle.
Cordura Benefits
Cordura seat covers for maximum durability
Cordura is a high-performance fabric resistant to abrasions, tears, and scuffs
Cordura stands for durability
Cordura is:

2 x more durable than standard nylon
3 x more durable than polyester
10 x more durable than cotton duck
Customer Reviews for Cordura Seat Covers
Review by
Wesley Gammill
from Brentwood, TN:
Vehicle: 2014 Toyota Tundra
Review by Luc Seguin from Ottawa, ON:
Vehicle: 2014 Chevy Silverado
Product: Cordura
Date: 2014-12-19
Hard to fit but once installed it is better than anything I 've installed before. This is my second set
Review by Helen Meneray from Owen Sound, Ontario:
Vehicle: 2014 Dodge Ram Pickup 1500
Product: Cordura
Date: 2014-12-18
I found it difficult to install the portions that slid between the seat and the seat back. Material appears strong and durable.
Review by Stephen Brown from Fort St. John, BC:
Vehicle: 2013 Ford F150
Product: Cordura
Date: 2014-12-15
Great product. Easily the best looking seatcovers that I and my coworkers have ever seen. They take a bit to get on but once in place they look great. Good customer service as well.
Review by Sabrina Uysal from South Salem, NY:
Vehicle: 2015 Nissan Xterra
Product: Cordura
Date: 2014-12-11
Hvn't had them long enough 2 see how well they hold up but look & feel sturdy against my 2 German shepherds & biking/hiking gear. Fit is not great on seat edges.
Review by Richard Pielou from Heriot Bay, British Columbia:
Vehicle: 1995 GMC Sierra
Product: Cordura
Date: 2014-12-10
Great tough covers with lots of rugged fasteners. I wish they were a little longer however I can't get the velcro done up.
Review by Bernard Jorgensen from Booneville, AR:
Vehicle: 2014 Dodge Ram Pickup 1500
Product: Cordura
Date: 2014-12-10
Hard to find a good location to attach elastic backs do not form fit in frontneed some way to attach the lower back bottom of seat cover
Review by Richard Murray from CANADIAN, TX:
Vehicle: 2011 Ford Econoline E Series Vans
Product: Cordura
Date: 2014-12-09
Very well built easy to put on fit & look great. Will buy again. The phone call to make sure of the right seat was very helpful thanks Richard Murray
Review by Ray Matthew from Santa Fe, NM:
Vehicle: 1978 Ford F Series All Cabs
Product: Cordura
Date: 2014-12-07
Thick and strong fabric will last a long time. Fit excellently.
Review by Nicole Jamieson from Prince Rupert, BC:
Vehicle: 2015 Toyota Tacoma
Product: Cordura
Date: 2014-12-05
Very happy with the strength and durability. Would advise labelling each piece to which seat and section intended for. Wasn't overly difficult to figure out but if labels are attached much more logical for owners to install. Straps are very long would be nice to see toggles/tie back systems in place so straps aren't dangling everywhere without some creative tying/duct taping.