Cordura Seat Covers
4.5 / 5 Rating (

473

Reviews)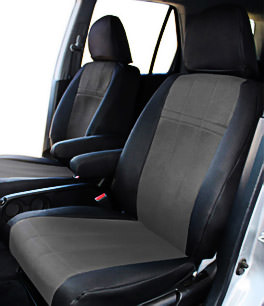 Durability
Comfort
Fit
Protection
Custom Fit to Your Seat
Start Here
About Fabric: Highly durable Cordura fabric with laminated backing offers rugged performance, with maximum protection.

Choose from popular colors
| | | |
| --- | --- | --- |
| Black | Gray | Tan |
| Blue | Burgundy | Black w/ Gray |
| Black w/ Tan | Black w/ Blue | Black w/ Burgundy |
Create your own Color Combination:

Long lasting, waterproof car seat
Washable & can be surface cleaned
Excellent for truck & industry use
Request Free
Fabric Samples
Cordura Custom waterproof seat cover is for those who value maximum protection. Excellent for construction, heavy industry use, or as a Pet Seat Cover. All Cordura waterproof car seat covers are Custom made for your vehicle.
Cordura Benefits
Cordura seat covers for maximum durability
Cordura is a high-performance fabric resistant to abrasions, tears, and scuffs
Cordura stands for durability
Cordura is:

2 x more durable than standard nylon
3 x more durable than polyester
10 x more durable than cotton duck
Customer Reviews for Cordura Seat Covers
Review by
Wilbur Mower
from Carlsbad, CA:
Review by Kevin Johnson from Oak Bluffs, MA:
Vehicle: 2012 Ford F150
Product: Cordura
Date: 2014-09-30
covers fit really well. The codura is fine but I would probably go with the neoprene
Review by James Woodard from Woodland Park, CO:
Vehicle: 2014 Toyota Tacoma
Product: Cordura
Date: 2014-09-29
They fit well and seem very rugged. They are attractive as well
Review by Andy Conover from Cedarville, OH:
Vehicle: 2013 Ford F150
Product: Cordura
Date: 2014-09-29
Not a seat cover kind of person but these fit nice and look good .
Review by Ronald Bristol from Hanover, PA:
Vehicle: 2014 Ford Transit Connect
Product: Cordura
Date: 2014-09-29
Tough and good looking seat cover. A little painful to get on but once they are they work very well.
Review by Jessica McPhee from Fredericton, NB:
Vehicle: 2013 Hyundai Elantra
Product: Cordura
Date: 2014-09-25
The fit is pretty good. But there are no instructions for backseats. There seemed to be no good way to keep the back part tight and the seat bottom part fits strangely and makes flipping the seat more difficult. I think part of it is just due to the unique features of my Elantra GT.
Review by David Spencer from Columbia, MD:
Vehicle: 2014 Hyundai Sonata
Product: Cordura
Date: 2014-09-22
More detailed directions for installation would be nice but overall it is a great product fits well and hopefully the cordura will protect the new car from our toddler
Review by Jon Countess from Santa Monica, CA:
Vehicle: 2014 Volkswagen Golf
Product: Cordura
Date: 2014-09-21
There was a fit problem at first but customer service did an excellent job of rectifying the problem. Now they fit perfectly. They look great too.
Review by Sherry Stinson from Phoenix, AZ:
Vehicle: 2014 Dodge Ram Pickup 2500-5500 HD
Product: Cordura
Date: 2014-09-20
Bought the seat covers to protect the seats from our dogs nails.These covers are just perfect.Fitted to the seat perfectly and these are very sturdy. We'll worth their value.
Review by Greg Wascher from Appleton, WI:
Vehicle: 2012 Ford F250
Product: Cordura
Date: 2014-09-19
great product for money. Fit & look are better than expected.. I would recommend and will purchase again